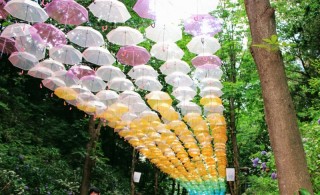 JAPAN TRAVEL
Forest and Lake and Umbrella
---
Venue: Metsa When: Jun 19th - Jul 15th 2019 ,  10:00am - 9:00pm
Metsa, comprising Metsa Village and Moomin Valley Park, is a Moomin theme park in rural Saitama. However, it can be reached from Tokyo in just over an hour by either public transport or by car. The Umbrella Sky Project is at the main entrance to the theme park.
The Umbrella Sky Project at Metsa is called "Forest, Lake and Umbrella".

At the Entrance Road, the umbrellas are backdropped by a lush forest lined with stunning purple geraniums, but you can't actually see the lake until after you have passed the umbrella display. The display is made up of 1000 umbrellas in the varying shades of the rainbow. They cast beautiful colored shadows onto the footpath beneath. The footpath itself is painted in vibrant shades. Together they forge a breathtaking scene.

The umbrella sky will be up until Monday July 15th. The event is free and entrance into Metsa village is free. There is a cover charge to enter Moomin Valley Park. Parking is also charged.
 
Getting there
By car: Metsa is about a ten minute drive from the Sayama / Hidaka Interchange of the Ken-o expressway. Parking is available, but it is recommended you book it in advance.

On a busy day priority is given to people who have reserved parking. It is also cheaper if you reserved parking. It costs 1,500 yen for the day on a weekday and 2,500 yen on a weekend. If you haven't booked, parking is charged at 100 yen for ten minutes on a weekday with an upper cap of 1,800 yen for the day.

On the weekend it costs 500 yen for thirty minutes with an upper cap of 3,000 yen maximum charge. By public transport: You can get a bus bound for Metsa from Seibu Ikebukuro's Hanno Station North Exit bus stop 1.

There is also a bus from Higashi Hanno Station, which is on the JR Hachiko Line.