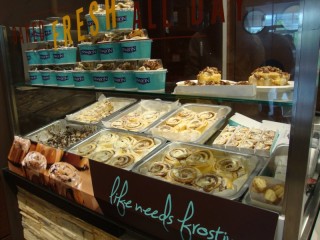 JAPAN TRAVEL
Every sweet cinnabon must be in want of good coffee.
---
If you're like me, you have probably been wondering where you can get a big, ooey-gooey, dripping-with-icing-and-bursting-with-amazing-cinnamon-y-goodness cinnamon roll in Japan. What's that? You're not
that
obsessed with cinnamon rolls? Well, you should be! Believed to have originated in Sweden, the cinnamon roll, also called cinnamon bun, has enjoyed a long history as a breakfast favorite in many parts of North America and Northern Europe.
The cinnamon roll is, of course, not new to Japan—Japanese bakeries make a host of different varieties—but it is harder to find cinnamon rolls of the gooey variety mentioned previously. But never fear! Whether you've been wondering or not, you need look no farther than Cinnabon for the answer to your (okay, my) prayers.
In the past three years, Cinnabon/Seattle's Best Coffee have steadily expanded, opening stores in Harajuku and Tamagawa, and takeout stands in Haneda Airport and Tokyo Station (only open until Sept. 8). Now, the chain has finally come to Saitama, opening a beautiful new store in Saitama-Shintoshin's Cocoon City last month.
The store seats 20, and is located right in the middle of the shopping center, making it a great place to take a break from shopping. As you relax, you can watch the staff make the cinnabons from scratch through a big window, a hallmark of all Cinnabon stores. Expect lines, but don't be deterred by them as they often move quickly.
(Regular 'bons start at ¥420, minis at ¥300.) There are a few other sweet treats on their menu like Cinna Bites, bite-sized cinnamon rolls, and Cinnabon Stix, cinnamon-covered pie sticks you can dip in cream cheese frosting. You can choose from a plethora of beverages—caffeinated and non-, hot and cold—to wash down your cinnamon treat.
If you don't have time (or there's no space in the café) to chow down on your cinnabons immediately, grab a CinnaPack, a box of premade cinnabons that you can heat and eat at home or freeze to eat later. Just be careful not to eat all of those cinnabons in one night.
How to Get There:
Take JR Keihin-Tohoku Line, Utsonomiya Line, or Takasaki Line to Saitama-shintoshin Station. Cocoon City is a short walk from the east exit. Follow signs to Cocoon 2. Cinnabon is located on the first floor.
By
Loren Hinton