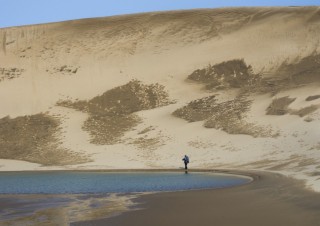 GAIJINPOT TRAVEL
Thanks to the dunes and beachy blowouts, you'll look at sand in a totally new way.
---
Tottori city is a place known for looking at things from a different perspective. Here you'll find most things have a unique twist.The capital city of
Tottori
prefecture lies in the northeastern with its beautiful beaches facing out towards the Sea of Japan. The sandy oases are also home to some of Japan's biggest beach parties in the summer months.
Being only a third the size of Tokyo with just a fraction of the population, Tottori city is a much more manageable city to visit, yet is still jam packed with things to do. A place of art and culture built atop a history of dramatic sieges and noble families, there is much more here than meets the eye.  
Sandy attractions
Tottori's most impressive example of their unique thinking is the sand museum. The prefecture is famous for its sand dunes — not normally something that comes to mind when you think of "Japan," right?
While this may seem very mundane, it's actually anything but. Inside The Sand Museum has sand molded into beautiful statues. There are famous buildings, people, animals and abstract sculptures all perfectly shaped from sand. They are very fragile and collapse over time, so new installations are constantly being unveiled. This means every time you visit the museum, it will be a new experience.
On the beaches you can rent fat-tire bikes that won't get stuck in the sand, or if you really want to travel in style you can ride a camel, as camel rides are one of the attractions of the dunes. For the adventurous, you can slide down the dunes on boards and skim across by paragliding.  
Brimming with history
Back into the city are more great sights, such as Jinpukaku, a French renaissance-style mansion built for the Ikeda family who used to rule the area. The Tottori Prefectural Museum boasts a wealth of local art and history allowing visitors to discover how the region developed its own identity.
Tottori's castle ruins are also a must see. Once a mighty fortress that withstood a 200-day siege, the castle was built into the mountain side, using nature to make it extremely defensible. Unfortunately, now there is little left, only a few castle walls and gate. The location is still a great place to learn about the feudal history of the area.

Things To Know

Hours
Hours for the Tottori Sand Museum vary due to changing exhibits. Please see up-to-date info on their official page: www.sand-museum.jp/en/?page_id=68   
| Tottori Prefectural Museum: Closed on Mondays, otherwise open weekly from 9 a.m. to 17 a.m. (Note:  From April to October, open until 7 p.m. on weekends/holidays.)

Fees
Sand Museum: ¥600 to enter  | Camel rides: ¥1,300 for one rider, ¥2500 for two on the same camel. There is an extra ¥100 charge for taking a photograph.  
| Bike: ¥5,000 for a standard 120 minute session
| Paragliding: ¥7,000 for a standard 180 minute session.
| Tottori Prefectural Museum:  ¥180

How To Get There
Address
680-0835, Japan

By train
Take the bullet train from Tokyo to Himeji station (3 hours), then take the Limited express super Hakuto 9 train bound for Tottori. (1 hour and 30 minutes).

By car
Take the Tomei expressway to Chugoku, then take the Tottori express way for Tottori city.

By plane
You can fly to Tottori Sand Dunes Conan Airport from Haneda (1 hour and 20 minutes.)