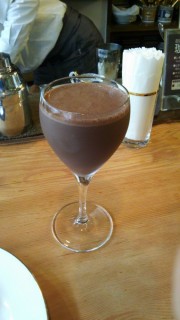 JAPAN TRAVEL
A classy break from the Sannomiya bustle
---
In the bustle of Sannomiya, there's an oasis of calm. Like many of the best places in Japan, it's not in the most obvious of locations. Its name isn't very unique. It's rather small, only seating 13 people. All in all, it has a very humble atmosphere.
To find it, walk along a shopping arcade, Sannomiya Hondori. Find a shop called Unicorn, and a florist called Junkaen. Opposite them, on the second floor, is Cafe.
The menu is also diminutive, but features a choice of teas, coffees and cocoa as well as a selection of cakes, all exclusive to the store. It may be small, but everything is done with a high level of professionalism and perfectionism.
Creation is another important aspect. Japan is known for its tea ceremony, but here they have a coffee ceremony. Everything is done with precision and style. Cold coffee comes from a very classy, antique-looking contraption by the window. The cocoa is made like a cocktail – the glass is cooled and the drink is mixed in a shaker.