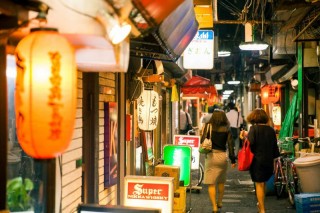 JAPAN TRAVEL
Visit This Yokocho For Showa-Era Pubs And More
---
When you get off at Oimachi Station in Shinagawa, one of the first things you will notice are the department stores and shops you are used to—but if you walk 30 seconds from the station, you will encounter a place where you have slipped back in time.
Some areas of Oimachi have not changed much since ancient times. Small shops line the narrow alleys and you can hear lively voices. Here, small shops began to line up shortly after World War II. The area has since expanded but it retains its old-time charm. Join the locals in the pub alley (Azumakoji), where about 200 restaurants lined up during the peak period of the Showa '40s (1965~1974). The area has changed little since then.
Visitors to the area will find bargain sushi that doesn't skimp on the quality, and even some small bistro cafes serving prosciutto, coffee, and cake sets. Explore the area to find your postwar delight, whether you want gyoza (potstickers) or fusion cuisine, there's sure to be something to satisfy. There's no question that Oimachi Yokocho has something for everyone.
It's a postwar non-alcoholic drink meant to taste like beer when the real thing was in short supply; why not try it mixed into shochu (Japanese distilled spirits). Of course, there's also no shortage of traditional Japanese sake. Whatever it is you choose to down with your meal, you'll be satisfied with the many options the area has.
Another point to note is that many establishments do not allow photography of other customers, so keep the selfie sticks to yourself. Regardless of any local rules, Oimachi is a great place to spend any amount of time and the yokocho is sure to warm your heart and spirits.

Getting there
Oimachi Yokocho can be found on the east side of Oimachi Station. The whole complex of alleys is about 100-meters long. Oimachi Station itself can be easily accessed from JR Shinagawa Station on the Keihin Tohoku Line.    
By
Serena Ogawa