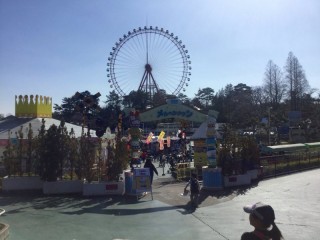 JAPAN TRAVEL
Retro amusement park in Saitama
---
If you're looking for an honest-to-goodness amusement park with all the fun, quintessential rides, Seibuen Yuuenchi might be for you. This retro fairground has none of the flashy snazziness you might expect from Disneyland, Universal Studios, or Legoland, but for families with small children who are happy enough with merry-go-rounds, classic car rides, rotating teacups, and gentle flying elephants, Seibuen Yuuenchi will surely keep them busy for a day.
Adults will delight in the 360 degree views that include the Tama Lake and Mt. Fuji in the distance from 80 meters up on the gyro tower, or 62 meters up on the very slow and very safe ferris wheel. The ferris wheel is particularly romantic.
In the summer, the park's main attraction is the huge water park while in the winter, the water park area hosts attractions like bouncy castles, trampolines, snow land (how the snow stays frozen in 10 degrees celsius is incredible), and panel skating. At night, various areas in the park, most spectacularly, the rose garden, are illuminated.
The one day free pass is the best value to fully enjoy all the park's attractions.  
Getting there
While driving to the Seibuen Yuuenchi is pretty straightforward, parking costs ¥1,500. We found the train connections pretty straightforward and if using all Seibu lines, the cost reasonable. The amusement park is serviced by the Seibu-Yuenchi Station.
This super cute people mover is nicknamed Leo Liner (inspired by the mascot of the Saitama Seibu Lions) and the ride was, for us, as interesting as one of the park's attractions.
By
Sherilyn Siy