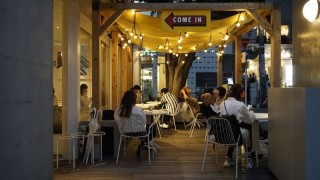 JAPAN TRAVEL
A Surprisingly Affordable Restaurant In Tokyo's Hip Hub
---
As I walked through the streets of
Daikanyama
, I couldn't help but to feel like I was at another, more different part of Tokyo. It was totally relaxed, with no signs of striking neon lights, untouched by Japan's famous iconic markers. At some point I was convinced that I was magically teleported to somewhere outside Japan.
This trendy hub oozes a Brooklyn vibe, where I knew exactly what kind of culture I'd spot there: cool kids, vintage barbers, minimalist coffee shops, and vegan eating places. And I couldn't be any more correct, because yes I found that -- including this restaurant that I thought would sum up everything I love about Daikanyama. Its name is Sign Allday.
I never heard about this place before, but looking at the people sitting by the porch of the restaurant, chatting with their friends while enjoying all the amazing stuff served from the inside, well, I must say that it attracted me to join them. It was located on a big road, just a short walk from Daikanyama Station. But despite its strategic location, I discovered a super relaxing atmosphere inside its minimalist building, with chilled music playing in the air.
With an atmosphere so perfect, people might think that eating here would cost them a lot, right?
As a matter of fact, not at all. I was so surprised when the menu came, and the prices inside were all so affordable. Then it got me thinking, with meals ranging from ¥1,000 - 2,000 (dinner menu would be around ¥3,000), would the portion be small? As a matter of fact, again, not at all.
Take my chicken rice menu that came with mashed potatoes and salad, for instance. It was only ¥900, but the portion was big enough for my big appetite. Other selections include other types of salad and a vegan menu, Hawaiian-themed dishes,
omurice,
as well as bread and cake options.
Even without its affordable prices, my visit to Sign Allday alone was totally a pleasant one. Its tranquil vibe was a contrast to Shibuya's clamour that even if I had to pay a bit more for that, I'd be more than happy to do so!