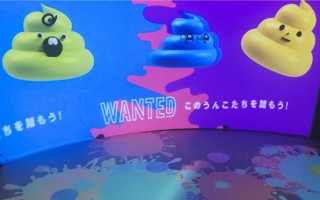 GAIJINPOT TRAVEL
Welcome To Japan's First Poop Museum.
---
If checking out wacky "
only in Japan
" locales is your thing, you're in for a treat because
Yokohama
now has a museum dedicated entirely to poop. Take pictures of flying poop, step on exploding poops, and play the poop-version of Space Invaders at the Unko Museum Yokohama until September 30, 2019.
The pop-up museum's three exhibition areas are all named with a play on the word
unko
(that means poo in Japanese if you haven't caught on yet) "Unstagenic," "Untelligent," and "Unteractive."  
Poop…. In a museum?
Don't worry there's no real human dung at the
museum
, just ridiculously cute emoji-inspired ones. Yes, Japan has found a way to make even poop
kawaii.
The different poop-themed scenes are an Instagrammer's paradise. Join a bubblegum pink tea party with poop-frosted cupcakes in the "Princess and the Poop" room. Or, snap a shot of you and your lover sitting on matching toilets in the "Unko Lovers' Room."
We couldn't make this up
if we tried.
After laughing your head off at the huge poop in the middle of the floor that erupts with smaller poops, join in the exhibition by drawing your own inside one of the mini toilet seat frames on the wall.  
The gateway to poop: AsoBuild
What kind of place would play host to a poop museum, you ask? That honor goes to AsoBuild. It's a trendy new six-story complex that houses all kinds of fun exhibitions, bars, and restaurants that is a permanent fixture, unlike the pop-up museum.
for the gram
." But then again, art is subjective and nobody likes a party
pooper
(LOL).
Read more about the Unko Museum Yokohama on
GaijinPot Blog
.  
Things To Know
---
Tickets
While you can purchase a ticket in person, it is recommended to buy it online because it may be sold out on the day.
After purchasing the initial ticket, you will receive a timed-entry ticket, so get there early. After you get in, you can stay as long as you fancy.  
Hours
Open Monday through Thursday 11 a.m. to 8 p.m.; 10 a.m. to 9 p.m. Friday to Sunday and public holidays.  
Fees
Tickets cost ¥1,600 for adults; ¥900 for elementary students; free for children under five. For advance tickets:
https://reserve.ale-box.com/reserve
(Japanese only).
How To Get There
---
Address
Japan, 〒220-0011 Kanagawa, Yokohama, Nishi-ku, Takashima, 2-chōme−14−2 横浜中央郵便局(神奈川郵便局横浜中央分室)

By train
You can take multiple JR lines (including the Narita Express from
Narita Airport
), Keikyu Line, or Toyoko Line to Yokohama station. AsoBuild is a one-minute walk from the Southeast Exit and the Unko Museum is on the second floor.