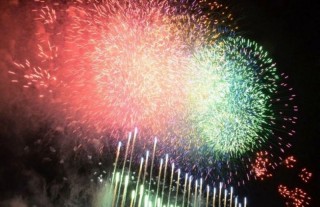 JAPAN TRAVEL
Held On The First Saturday Of August Every Year
---

Venue: Yodogawa River, Osaka When: Saturday - Aug 10th 2019 ,  7:40pm - 8:40pm

An excited crowd clad in their best Yukatas, the smell of grilled sausages from the street vendors, sounds of excitement and thrill from kids sitting on their parents' shoulder, anxiously waiting for the next masterpiece painted on the dark summer sky. Held on the first Saturday of August every year, the annual Yodogawa Fireworks Festival is ranked among the top 10 most popular firework in the Kansai region, and this is indeed one of the most awaited events in Osaka.

This event, started in 1989, has close to 500,000 people watching the massive display of fireworks. You'll be awed with the creativity of firework craftsmen who designed the various fireworks that decorates the dark summer sky. You feel like you are a part of this big family, (together with the crowd who came from all over Japan), eagerly waiting for the next launch of firework into the sky.
You can see the fireworks from many different places, if you want to enjoy the rare experience of being totally immersed in the Japanese festive mood; I personally recommend you sit by Yodogawa on either side with the sweaty packed crowd. All the uneasiness of being sardined in the crowd of the night just disappears when you see children clapping their hands and stamping their little feet with every firework released.

The fireworks starts at slightly before 8pm but to beat the crowd and get yourself a good spot, I would urge you to come to reserve your place at least one or 2 hours before. Come earlier to savor the unique Japanese festival food and picnic by the river. If you want to be sure of a spectacular view, there are also reserved seats with tickets priced at 2,500 yen for a standing seat, and up to 8,000 yen per person for a seat complete with bento and chilled drinks.
My personal favorites are the fireworks that flow like waterfalls from the sky. I also like special that portrays famous Japanese comic characters of Kitty-chan and Doraemon. Look out especially for the climax of the day -- with non-stop shots to the sky that lasts about 10 seconds. Night feels like daylight and you will surely be moved the 50 minutes long gigantic panorama on the summer sky.