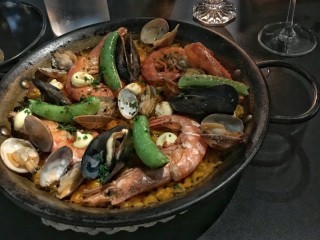 JAPAN TRAVEL
High-end Basque and Catalan-inspired cuisine
---
Finding decent Spanish-inspired cuisine in Tokyo is not impossible, but while many places can make a passable paella, finding high quality, memorable meals is more of challenge.
Fortunately, there's the Marunouchi district, where restaurateurs are challenged to deliver the best food or get replaced within a few months. It is here where you can typically find the best that Tokyo has to offer, and ADRIFT by David Myers stands among the top in the area.
Chef David Myers is known as the Gypsy Chef (his actual trademarked nickname) for traveling the world relentlessly after establishing himself in his home city of Los Angeles. He has opened several ADRIFT restaurants, most notable atop the Marina Bay Sands Resort in Singapore.
Most of the food is served Tapas-style, meaning menu options offer smaller portion sizes with the expectation that guests will try several different dishes. That said, the portion sizes were still decent enough that one person could easily be full on two choices, or four split between two people, etc.
Pricing at the restaurant tends to be at the higher end, and you can expect a meal for two costing anywhere between 5000 and 15,000 yen depending on food and drink choices.
The restaurant is open from 11:00 to 23:00 everyday except New Year's Day.  
Getting there
ADRIFT is only a five minute walk from Tokyo station or three minute walks from Nijubashimae, Hibiya, and Yurakucho stations. It is located at street level of the Tokyo Fuji Nijubashi Square building.
By
Michael B