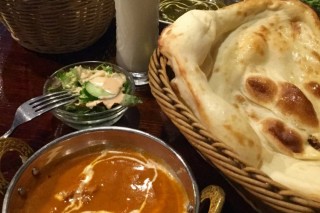 JAPAN TRAVEL
Lunch Time Indian Curry
---
As parents to two kids, my partner and I often only have the daytime to go on a date together while the kids are at school or at an after school program. Lunch is a good time to eat out as many restaurants offer cheaper meals at this time of the day. But sometimes, it's also a certain ambiance we are looking for that is not usually available in the daytime.
We found ourselves walking around the Yushima-Ueno area at lunchtime looking for such a place to slow down and enjoy each other's company.
At night time, Meat Bar Rosemary dishes up steaks and similar decadent fare, but at lunchtime, the menu is Indian. The curry of the day costs ¥780 and other curries at ¥800 or so. The door opens to a dark interior cozy with its booths, dark wood tables, and dim lighting, and an ambiance we associate more with romantic evenings rather than bright noon and therefore, perfect for us. We picked a table in the far back and under the glow of a low lamp, have the illusion of an evening date.
The menu is pretty standard for an Indian restaurant. We ordered chicken curry and saag curry sets, both accompanied with naan and a salad, and an extra lassi (+¥100) to share. Spice level can be customized and at medium spice, the heat hit the right spot. The food was not exceptional but was delicious nonetheless.  
Getting there
The nearest station is Yushima Station served by the Tokyo Metro Chiyoda Line.  
By
Sherilyn Siy