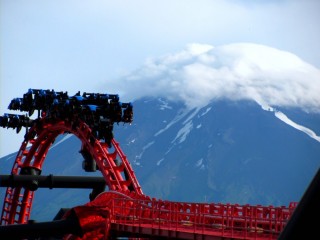 GAIJIN POT TRAVEL
Thrill Seekers Of The World: Listen Carefully.
---
What if there was a place where you could wave at
Mt Fuji
from the top of a 70m high rollercoaster? What if this place also had a labyrinth-come-fortress and a haunted house that lasts for one hour and will scare your pants off? Time to book a ticket to Fuji-Q Highlands.
Fuji-Q, which is one of 
GaijinPot's Top 5 theme parks in Japan,
 is located in
Yamanashi
and coaches from
Shinjuku
make this super convenient for day-trippers, or as part of a longer tour of this beautiful prefecture. Tickets including roundtrip transportation and access to all the main rides clock in at only ¥7,800 if you choose the special QPack deal.
You certainly get your money's worth. The rollercoasters are top quality with attractions like Takabisha, a ride with the steepest drop in the world (at 121 degrees!) and Eejanaika with a record breaking number of spins sure to satisfy even the most extreme of adrenaline junkies.
For those who are unaware of the Japanese obsession with haunted houses, it's time to get initiated with the Super Scary Labyrinth of Fear. The entire building is made up like a hospital with a terrifying assortment of ghosts and ghouls ready to turn your darkest nightmares into reality.
Now you may be wondering if there's anything for the less adventurous and the answer is yes. The Great Zaboom is a fantastically fun water ride (bring a towel to mop yourself up), as well as fairground classics like Tea Cups and a Merry-Go-Round.
If the Labyrinth of Fear (!) is making you quake in your booties, try out the more child-friendly haunted house based on the works of famous manga artist, Mizuki Shigeru, named Ge-Ge Haunted Mansion. Fans of anime franchise Evangelion can also seek solace in EVANGELION:WORLD, which is more exhibit than ride. Life-sized models and a recreation of the cockpit of an EVA plane are what's on offer.
After a long, hard day of riding rollercoasters, the Highland Resort Hotel and Spa is the perfect place to relax and wind down in one of their stunning onsens, which boast world-class views of Mt Fuji. As far as theme parks go, Fuji-Q Highlands is truly one of the best in the world.



Things To Know

Tickets
1 day free-passes cost ¥5,700 (for adults), with the Toku Q-Pack (added coach transport from Shinjuku station) costing ¥7,800. More information and other ticketing options can be found on the official website.
Make sure to book your Toku Q-Pack tickets in advance as they can be sold out on the day.  
How To Get There
Address
4 Chome-15-15 Shinnishihara, Fujiyoshida-shi, Yamanashi-ken 403-0017, Japan  
By train
From Shinjuku Station take the JR Chuo Main Line (approx. 60 min by limited express) to Otsuki Station then transfer to Fujikyu Line to Fuji-Q Highland (approx. 50 min).
If taking the express prepare to budget for around ¥4000 one way. If taking the standard route, prepare for around ¥2500.  
By bus
Special passes called Toku Q-Packs can be bought that include bus transportation from Shinjuku Station South Exit making this the cheapest option.
Chuo Highway Buses also run from Shinjuku Station's Yaesu Exit. Tomei Buses run a service from Shibuya Mark City and Yokohama Station's West Exit. These buses must be booked in advance.