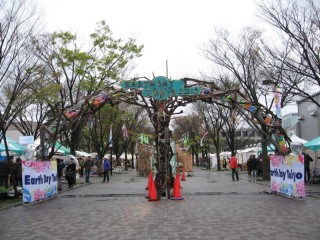 JAPAN TRAVEL
A Day To Feel Green
---
Venue: Yoyogi Park Events Square When: Apr 18 - Apr 19th 2020, 10:00am - 7:00pm
Many—if not most—Japanese may not know about this festival. Or the day that inspires it. But one mid-April weekend serves as the perfect opportunity for Earth-conscious people to converge on
Yoyogi Park
.
First held in 2001, Tokyo's Earth Day Festival welcomes more than 100,000 visitors over two days to teach them about how to live a greener life but more importantly, preserve the environment. The event features speakers, musicians and plenty of organic products (such as lip balm I purchased).
But if you're taking time to attend the festival, you'll obviously want to be entertained. Fortunately, the main stage hosts numerous performances throughout the two days by "Earth Conscious Artists" (as described on the festival's official website) and other musicians perform elsewhere in Yoyogi Park during the two days (such a funky didgeridoo set as well as two guitarists playing a Bob Dylan song at the Earth Day Festival I attended). If nothing else, you'll be introduced to some talented artists who just happen to be outside of the Japanese mainstream.
If you speak Japanese fluently, you'll have the opportunity to do more than just shop and listen to some speakers and music. Every year, the organizers accept applications for volunteers and roughly 600 people help the two-day event run as smoothly as possible.    
By
Rashaad Jorden