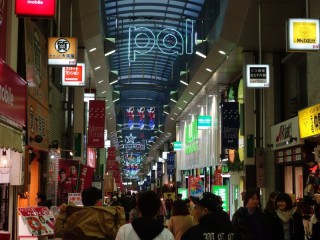 JAPAN TRAVEL
One of Suginami's famous shopping streets
---
Dripping with local charm and rating highly on the suburban strolling meter, Japan's
shotengai
shopping streets can be found in almost every suburb or district that you visit. Ranging in size from an easy gathering of a handful of local shops to the almost three kilometre-long bazaar of Osaka, the shotengai experience is quintessential Japan.
With over two hundred stores, Koenji Junjo is a decent sized shopping street, a third of which is made up of bars, eateries and restaurants. Along with the food can be found plenty of vintage clothing, second hand stores, and discount shops. The area is also home to a busy underground music scene with numerous music stores and live houses and bars. Some would say that the area has a distinctly bohemian feel to it. It's certainly approachable and relaxed.
A great place for a wandering stroll, Koenji Junjo Shotengai is a curious mix of Japan's underground and traditional cultures happily coexisting in the one area.
Getting there
Take the JR Chuo Line to Koenji Station. Head out the North Exit and you'll find Koenji Junjo Shotengai right under the red arches.  
By
Sleiman Azizi