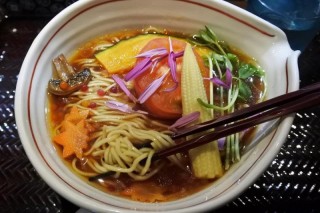 JAPAN TRAVEL
A Ramen Shop That Caters To Various Dietary Needs
---
Living in or visiting a foreign country is exhilarating, but it can often have elements that are overwhelming - particularly if you have dietary requirements you need to adhere to.
With an ever-increasing understanding of these needs, Japan is seeing more and more restaurants pop up that take dietary requirements into consideration. One spot that caters to vegetarian, vegan, and halal guests is Shinjuku's Halal Ramen Ouka, which has been operating since 2015.
Full disclosure: I'm not vegan, nor do I follow a halal diet. However, I visited here with a friend who is vegan, and as a result I also opted for the vegan ramen from the menu.
The process of ordering is easy - it's done via a machine which is labeled in English, so you don't need to worry about anything being lost in translation. The staff here speak English too, so you can rest easy even if you're not proficient in Japanese.
The restaurant itself only seats about 12 people, so if youturn up without a reservation you may have a slight wait before you can eat. However, if you're after great service, great food, and no stress about ensuring your dietary requirements are met, it's worth queuing for. If you want to avoid the potential lines, they take advance bookings on their website.


 
Getting there
Halal Ramen Ouka is located a quick three minutes on foot from the Shinjuku Gyoenmae Station, on the Tokyo Metro Marunouchi Line. The restaurant is extremely close to the
Shinjuku Gyoen National Garden
, which is well worth a visit when you're in the area.
By
Kim B