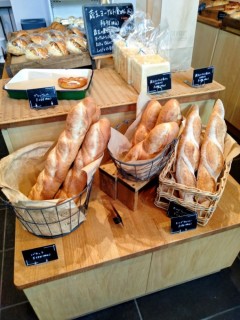 JAPAN TRAVEL
A European-Inspired Bakery In The Mountains Of Miyagi
---
Rarely do I drive the toll highway system in Japan. One reason (read: main reason!) is I am cheap and want to use the money for food or leisure. The other is the issue of scenery.
Toll roads are built for speed and convenience, often with high walls near populated areas to block the sounds of buses and big trucks. Get off the highway, slowdown a bit, and explore the backroads, rice fields, and mountains.
If driving around southern Miyagi, at some time you'll be sure to end up in Zao Town, whether it is to see its famous winter "
snow monsters
" or its phenomenal
"okama" crater lake
of Mt. Zao.
If looking for a quick pit stop, together with enjoying a day time dip in an onsen, pick up some bread and baked goods at "BRING" in Togatta Onsen area.
Step inside this tiny bakery and you'll be greeted by a beautiful bundle French baguettes and the heartwarming--salvia-inducing-- aroma of freshly-baked bread. A peek through the back windows of the shops shows the happy and busy workers toiling away on their labor of love.
One staff member in particular, Klaus, stood out because he was German!
You don't come across many foreigners in the rural mountains, let alone ones that choose to be there and have been baking for 20 years!
Klaus can answer inquiries in English, however, it is easy enough to figure out what things are and prices are listed in numbers.
Standby favorites such as typical croissants, melon pan bread, and curry pan bread are done well and rival any reputable bakery in a big city. For something different, grab a German-style soft pretzel!
You can taste the fresh flour and the texture is the perfect amount of doughy-ness! Compared to the real thing, the only difference might be there is less salt as the target is Japanese people.
With so many breads and baked goods, you won't be able to just pick one item with so much temptation.
I ended up eating one fresh, another on the road, and the last after my long drive. Keep in mind that only cash is accepted. The nearest ATM is a 2-minute walk away at 7-11 convenience store. Happy eating.  
Getting there
2-minute walk from Kami no Yu Onsen Hot Spring.