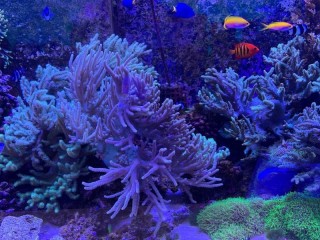 JAPAN TRAVEL
Appreciate marine life right on the Sea of Japan
---
Niigata Prefecture is blessed with two world class aquariums -
Niigata City's Marinepia
, and the Joetsu Aquarium Umigatari. The latter was renovated in 2018, and encompasses the theme of "Stories of the Sea".
The premises is split up over several floors, with sections dedicated to different marine life. The first floor is home to the popular touching pool where visitors can get up close with a range of sea creatures, and there's also the option to feed some of the animals for an additional fee. On this floor you'll also find the Magellan penguins exhibit, designed to replicate Punta Tombo National Reserve in Argentina where large numbers of these penguins are from.
Moving up to the second floor, there is a jellyfish gallery, deep sea world, a section dedicated to different species of octopus and squid, and the Umigatari tube. This underwater tunnel gives off 360 degree views and wonderful opportunities to observe a range of sea animals.
Perhaps the most popular section of all though is the outdoor area. The new Sea of Japan terrace is home to daily dolphin shows and sits right on the water, giving off some spectacular views - particularly if you're there around sunset.  
Getting there
The Joetsu Aquarium Umigatari is located approximately fifteen minutes on foot or five minutes by taxi from Naoetsu Station, served by the Shinetsu Main Line, the Myoko Haneuma Line, the Nihonkai Hisui Line, and the Hokuhoku Line.
By
Kim B