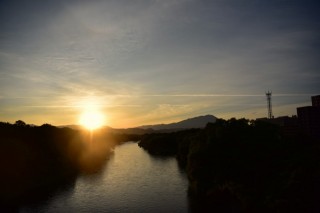 JAPAN TRAVEL
Prepare Your Eyes For Some Incredible Sunset Moments
---
Morioka is without a doubt a beautiful city. Cradled by mountains on all four sides and blessed with the majestic Kitakami River, Morioka is an ideal destination for those who enjoy racing against the setting sun.
A branch of the Kitakami River extends from the west of Morioka Station, eventually rejoining the other tributaries to continue southward. There is a bridge on the Kitakami River that is a short 5-minute walk from the West Exit of Morioka Station. I discovered this bridge simply by following the warm hues of the sun beginning to set against the clear blue sky after checking into
Hotel Metropolitan Morioka
at around 7:00pm.
From Morioka Station's West Exit, head right past the Malios building and cross the street. Then turn left and walk down the street until you meet the bridge and the Kitakami River. This location offers a perfect view of the sun just as it sets behind the distant mountains. The warmth of the sun creates distinct layers in the landscape, painting the background in a beautiful gold and leaving the foreground less faded. The river's movements are recorded to the gentlest ripple under the gaze of the sun while the clouds leave wisps of white against the blue sky. All in all, just a beautiful sight to behold and all within an hour after arriving in Morioka.
Another great spot to catch the sunset in Morioka is from Kaiunbashi Bridge, which is located east of Morioka Station. From the South Exit of Morioka Station, just walk straight and you will eventually find yourself crossing over Kitakami River. I walked along this bridge on my way to dinner one night, right at the moment when the sky appeared to be split open by a brilliant purple. The timing could not have been more perfect but I, unfortunately, decided to leave my camera in my hotel room, and for what reason I do not know anymore. A section of the bridge is elevated to enable pedestrians to cross the road without waiting for the traffic lights to change. The view from this elevated path was incredible.
Alternatively, you can climb to a higher elevation via
Malios
to their observation deck on the 20th floor. Malios is a skyscraper in the center of Morioka, and right outside Morioka Station's West Exit. Although you may not be able to stay long enough to catch the sun as it sets since the observation deck closes at 5:00pm daily, you can nevertheless gain a splendid view of Morioka City.
The sunsets I witnessed at Morioka are perhaps two of the most beautiful sunsets I have seen during my six-week stay in Japan. I left Morioka with an unforgettable memory of the blue sky ripped open to reveal purples, pinks, and oranges. If you want to enjoy a breathtaking sunset, wander over to one of the many bridges Morioka has to offer and wait for something amazing to happen.