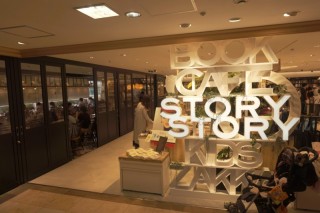 JAPAN TRAVEL
A unique cafe in Shinjuku's Odakyu Department Store
---

One early afternoon while I was in Odakyu Department Store right by Shinjuku Station, I found a place called "Story Story". If someone asked me to explain what the place exactly is, I would definitely call it a café/bookstore. I was almost in awe when I saw this place, as it was my first time seeing this mixture before.  It is located on the 10th floor, so taking the elevator might be a good idea.
Initially, I was only looking for an early lunch before heading to Shinjuku Station. Turned out I would be spending much more time in this café than I had planned. As an avid reader and enthusiast of the Japanese language, I often like to spend some of my time in bookshops all around Tokyo. This was the main factor that kept me staying in Story Story for around two hours. Nevertheless, my reasons for staying were not limited to books.

The café located in Story Story was what originally brought me all the way to the 10th floor. In that respect, just like with the bookshop, I was not disappointed. They had a fair variety of foods to choose from, almost equaling that of a small restaurant, with curry, spaghetti carbonara, and hashed beef with rice being some of the main dishes. I had the hashed beef, along with a chicken basket, and they both really hit the spot. If you are not hungry however, they also serve a variety of drinks and desserts, enough to keep you coming back many times, should you want to try most of it.
The bookstore takes up much of the 10th floor, and for a bookstore, its size is quite average. Book enthusiasts might think it too small, and vice versa. It might not need to be said, but their selection of books is mostly in the Japanese language only. In case you do not read Japanese, they also have many small accessories that might make for good souvenirs.
Besides, many of the books have interesting covers and photos, which is interesting in itself to look at. If you should find an interesting book, you can do as other people do, and bring it with you to read while enjoying a meal, or a cup of coffee. At least that was how I spent my noon in Story Story.
By
Alexander Voeler