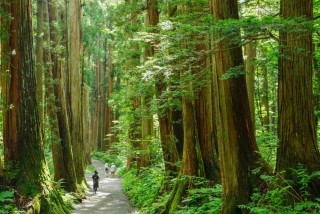 GAIJINPOT TRAVEL
Ninja Time In The Mountains.
---
If you find yourself in
Nagano
City, take a day trip to nearby Togakushi Village, which is just a 45 minutes drive away. With a shrine in a sacred forest, top-notch soba noodles, and a hint of ninja intrigue, the village ranks among Japan's great "off the beaten path" destinations.
Though modest in scale, Togakushi is surrounded by hills and mountains which come to life with dazzling colors in the autumn, plus kid-friendly ninja parks offer welcome diversions for families. The undisputed highlight, however, is the hike along a path lined with towering cryptomeria trees to the Togakushi Okusha Shrine in the foothills of Mount Togakushi.  
Take a spiritual trek
With a trailhead conveniently near one of the main bus stops, the hike to Togakushi's Okusha Shrine (
Map
) neatly encapsulates the relationship between Japan's Shinto and the divine nature that it venerates. Okusha, also known as the upper shrine, is one of five that make up the Togakuchi shrine complex and is the best spot to start your journey around the village.  
Discover the world of ninja
Nearby, visitors with a taste for skullduggery and arcane martial arts will want to check out some of Togakushi Village's ninja-themed facilities. The Togakure Ninpo Museum features a collection of photos and artifacts of Togakure school of ninja techniques, a derivative of the famed Iga school.
You will find Togakushi Ninja Karakuri Yashiki (also known as Ninja Trick House) that is made up of secret passages and hidden doors, and vertigo-inducing slanted floors. Getting momentarily lost while trying to negotiate the labyrinthine structure with friends or family is all part of the fun. Elsewhere on the grounds, are various obstacle courses and more ninja skills to acquire.
After all that ninja-ing, it's time for a hearty meal. Whatever one makes of the claim that Togakushi is the birthplace of soba noodles, the best shops in the area definitely offer a superior soba experience. The signature dish comes in a number of styles, with cold
zaru soba
being the very definition of what the Japanese call
sappari shita
(light, clean, and refreshing). If cold noodles aren't to your taste, opt for
kake soba
, served hot with a variety of toppings.
Things To Know

Hiking tips
Most people take the bus to the Upper Togakushi Shrine mentioned in this article and walk down from there. For a special treat, go up Mount Togakushi in the autumn and bask in the warm oranges and yellows of the seasonal foliage. It's also worth noting that residual snow in early spring might make it hard to follow the path if you don't have good hiking boots.

Togakure Ninpo Museum hours and fees
Togakure Ninpo Museum is open from late April to late November. Closed in winter. Open from 9 a.m. to 5 p.m. Admission for adults is ¥600 and ¥400 for children).  
Kids' Ninja Village hours and fees
Open from late April to late November. Closed in winter. Open from 9 a.m. to 5 p.m. Open from 9 a.m. to 5 p.m. Admission fee is ¥450 for adults/ ¥1,850 for a Sarutobi ticket (admission plus six attractions) and ¥200 for children/¥1,630 for a Sarutobi ticket.  Open 9 a.m. to 5 p.m. (closed Thursdays).
How To Get There

Address
3688-12 Togakushi, Nagano-shi, Nagano-ken 381-4101, Japan
From Tokyo station, take the Hokuriku bullet train to Nagano City (80 to 100 minutes, approximately ¥8,000, covered by Japan Rail Pass).

By bus
From Nagano station, catch the Number 70 bus to Togakushi Okusha Iriguchi (1hr 5min, one way  ¥1,350).  This stop is the most convenient for accessing the Ninja Museum and Okusha shrine hike. Times between buses vary, but you can count on catching one every hour or so.