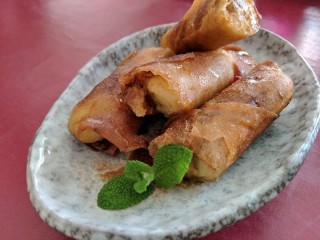 JAPAN TRAVEL
A Vegan Friendly Cafe With A Host Of Tasty Eats!
---

Seeking some vegan grub to enjoy after exploring Hiroshima? Art Cafe Elk is a must visit if you're in the area. Although their menu isn't fully vegan, they do have many vegan friendly options on the menu - as well as dishes that can be made vegan on request.

They're conscious of typical Japanese soup stock bases like bonito, and don't use those at all in their cooking. Meats that are prepared at the premises are cooked in separate oil to vegetables, and their menu has plenty of desserts that are vegan as well. In addition, they've also got an extensive gluten free selection which is perfect if you're traveling with friends or family who have gluten sensitivities.

Their vegetable tempura is perfectly crispy without being greasy, and the batter doesn't use egg. The pieces of kabocha (Japanese squash) in particular are mouth wateringly good, and would warrant a repeat visit for those alone. They also have a fantastic Hiroshima yaki-udon (stir fried noodles) on their menu which is packed full of veggies, a vegan BLT sandwich, and even a faux kara-age set (Japanese fried chicken) that comes topped with either a Hiroshima style sauce or teriyaki sauce depending on your preference.
Getting there
The Art Cafe Elk is situated four minutes on foot from either Kamiyacho-nishi or Hondori Stations. It's also about the same distance on foot from the Hiroshima Peace Memorial Park.