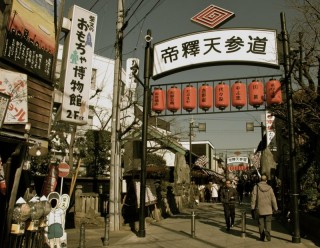 JAPAN TRAVEL
A Tokyo entry in the 100 Soundscapes of Japan
---
Nostalgia reigns in Shibamata. Beloved for its connection to the classic TV film series
Otoko wa Tsurai yo (It's Tough Being a Man)
and famous for its magnificent
Taishakuten Buddhist temple
, Shibamata's charm is complete with two nationally recognised areas - its main shopping street, Taishakuten Sando and its Edogawa river crossing, Yagiri no Watashi.
Listed as another of
Tokyo's representatives
on the
100 Soundscapes of Japan
- sounds chosen to encourage awareness of and respect for local heritage and culture - Shibamata offers an aural passage back to the days of old Edo, where modern Japanese society and culture found much of its genesis.
A veritable treasure trove of historical ambience and Tokyo
shitamachi
downtown culture,
Taishakuten Sando
's traditional merchants continue on with their pre-modern clamour of trade and commerce. In particular, pay close attention to the sounds of candy cutting at Matsuya no Ame, a traditional confectionery store dating back to 1868. The rhythmical cut-cut sound of the blades at work are captivating.
Yagiri no Watashi
is now the sole remaining ferry crossing, connecting Shibamata in Tokyo with
Matsudo
in Chiba. The lapping sound of the oars as the ferryman works his way across the river is particularly poignant. Combined with the cries of the local skylarks and gulls, Shibamata's soundscape entry evokes historical memories of a time when people existed in a more intimate relationship with the land around them.
The next time you head to Shibamata, spare a moment or two to take in and absorb the historical pleasure these sounds offer. A living reminder of Tokyo's heritage, Shibamata is a worthy listing on the 100 Soundscapes of Japan.
Getting there
Take the Keisei Kanamachi Line to Shibamata Station. Taishakuten Sando and the Yagiri no Watashi are short strolls from the station.  
By
Sleiman Azizi