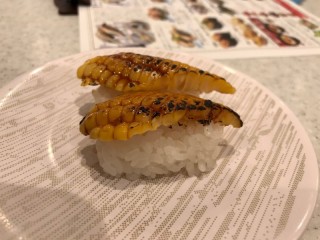 JAPAN TRAVEL
A sushi-go-round for families and picky eaters
---
Do you love sushi? I do, but I'm the only one in my family who does. That means when we travel around Japan, it can be hard convincing everyone to go to a sushi restaurant. I'm sure I'm not the only one in this position. Fortunately, there is a nationwide chain sushi restaurant in Japan that offers an option guaranteed to satisfy just about anyone.
Kappa Sushi presents a family- (and picky-eater)-friendly
kaiten
sushi
restaurant. Like any other
kaiten sushi
, or "sushi-go-round," restaurant, there is a conveyor belt that transports small plates of food. Patrons are welcome to take that food from the conveyor belts and the plates are used in part to determine the cost of the meal. Other than that, Kappa Sushi opts for a different style of service.
From there, you can immediately begin ordering using your table's touch screen menu. You can select from seasonal options, nigiri sushi, maki (roll) sushi, side menu,, dessert menu, drinks, and kids menu. Don't let the "side menu" title fool you--this section is actually full of things like ramen, udon, gyoza, karaage (fried chicken), and other mainstream Japanese dishes as well as conventional sides like french fries and edamame.
Of course, Kappa Sushi offers a variety of sushi options--many of which are great "starter" sushi for beginners. For example, there are sushi which have been seared with a blow torch to cook the fish through. Flavor wise, those
aburi
sushi are delicious, and there is no concern about having to feed raw fish to unwilling parties.
I was also very surprised at the quality of the desserts. For the price, the cakes and seasonal desserts were as good as you might find at a specialty cake shop like Ginza Cozy Corner.
Other great things about Kappa sushi include the following:
- Prices are very reasonable. A family of four can eat their fill of sushi, sides, drinks, and desserts for about 4000 yen.
- There are family friendly restrooms with changing stations (you won't find that at any high-end sushi restaurant).
- Kappa Sushi restaurants take credit cards.
- There is free WiFi.
One word of caution: don't expect the traditional sushi to match up to specialty shops in Tokyo, Kyoto, or elsewhere. The raw fish will not be as fresh or delicious as those places that source their ingredients from fish mongers daily. It is a trade-off though, because you can't take a four-year old to Jiro's sushi shop in Ginza, but you can enjoy a fun, tasty dinner with your family that has decent-enough sushi at Kappa sushi.  
Getting there
Kappa Sushi restaurants are located all over Japan. You can search for Kappa Sushi on most online map services and find them. My particular Kappa Sushi is located on Route 17, about a five minute drive from the Muikamachi IC on the Kan-etsu expressway. With gas stations nearby, it makes for a good place to stop even if continuing on to Nagaoka or Niigata City from Tokyo.
By
Michael B