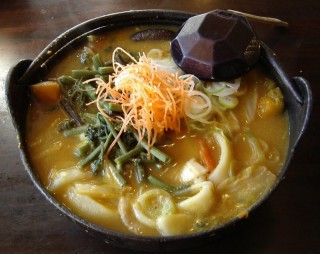 JAPAN TRAVEL
Hearty Hoto Noodles That Aren't Noodles
---
Japan may be the only country in the world where eating a bowl of noodles feels the same as sitting in a hot spring...
You see, if you've been to the northern side of Lake Kawaguchi (yes, one of Mount Fuji's five famous lakes), you've more than likely stopped by for a belly hot spring bath at Momiji Tei. If you haven't, read on.
Momiji Tei is a restaurant serving
hoto
, the local Yamanashi Prefecture speciality. Considered by many to be an
udon
noodle variation, hoto's thick and flat white noodles certainly bring to mind its more famous cousin.
Locals are adamant, though, that hoto is not an udon dish. Differences in dough preparation aside, when you order a bowl, you will see why.
Variations on this dish abound. Momiji Tei's claim to fame rests with its homemade miso broth. Aged for two years, the miso gives their broth a flavour delicately rich in texture and aroma. If ever there was an ingredient designed for a belly hot spring, miso is it.
Served in an iron pot, with its rustic soothing ambience, you will be guaranteed to feel like stepping in yourself. A beef version goes for ¥1300. The ¥1800
gozen
emperor's course with beef will include side dishes like
sekihan
red rice (rice coloured with azuki beans),
tsukemono
Japanese pickles,
sansai
mountain vegetables and tofu.  
Getting there
If you're not driving to Lake Kawaguchi, then take the Fuji-Kyuko Bus from bus stop #5 at Kawaguchiko Station, and get off at Ichiku Kubota Art Museum. The restaurant is only a couple of minutes' walk from the bus stop.
By
Sleiman Azizi