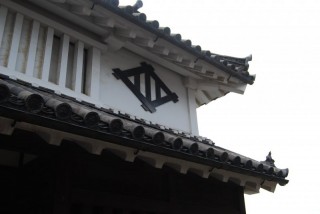 JAPAN TRAVEL
Slip back in time to an Edo Period Merchant Mecca
---
White plastered walls, tiled roofs and dark-wood latticed windows, these were the trademarks of the merchant houses in wealthy Imai during Japan's feudal period. Aligned row upon row in small alleyways, the sight of many such houses in one place is now rarely seen elsewhere in Japan.
Reflected in an old Imai saying: "70 percent of the gold of Yamato comes from Imai", one can easily imagine the wealth and power of Imai Town in centuries past.
Trade in rice, alcohol, cotton, hardware, oil, fertilizer and other wares as well as money lending, might Imai one of the wealthiest merchant towns in Edo Japan. Think of Takayama, minus the gift shops, and you get the picture of scenic Imai.
Now, let's take a stroll around and visit some of the former merchant residences!
Sobu Well
. Imai-cho spreads out to the South-West from here.
Walk along Mido-Suji and you come to
Shonenji Temple
which plays an important role in the establishment of Imai. First mentioned in records of Nara's Kofukuji Temple as a place of ascetic practice for Ikko monks in 1386, over time a town grew within the precincts of the temple laying the foundation for the establishment of Imai-cho two hundred years later.  
Places to Learn about Imai-cho
---
In Honmachi-Suji you find the
Yonetani Residence, or Imai Machiya-kan
. This merchant house was originally built in the early 18th century. Acquired by Kashihara City and recently reconstructed, this property is now ran as a model of a typical Edo Period machiya (townhouse) in Imai. Access is free.
Since several of Imai's historic houses are not open to the public or open only by prior appointment and with admission fee, the Imai Machiya-kan is a good starting place to experience the inside of a merchant house.
There is the typical ground-level, dirt-floor entrance room, and several off-the-ground living and storage rooms. Accessed by a ladder, the second floor was also used for storage and as sleeping space for apprentices.
shikii ga takai ie
(literally, a house with a high threshold) is said to have originated here.
Former Kometani Residence,
another large merchant house. The owners ran a hardware store under the name "Komechu". In the back of the house is a small garden with a kura, a Japanese storehouse. Interestingly, attached to the front of the kura is a small teahouse. Apparently the retired members of the family would hang out there and "guard" their hard-earned wealth in the storage place.  
Hanairaka TIC
---
This is the locals' nickname given to a Meiji Era building which is surrounded by heavy iron fence and a small garden.
Built in 1903 as a public education hall, and from 1929 used as Imai Town Hall, the building now hosts the Imai-cho Tourist Information Center (TIC).  
Imanishi Family Residence
---
This imposing house is located at the Western end of Honmachi-Suji, by the Former West Gate. The owners of this residence played an important role in the history of Imai.
A descendant of the Imanishi Family happily explains all the features of the house and its illustrious history. If you make only one prior appointment to visit one of the access-restricted residences, then come to this impressive place.
The first town administrator of Imai-cho, appointed by the Tokugawa Shogun, was a member of the Kawai clan. His name was changed to Imanishi and he was given a Japanese halberd by the Shogun in recognition of service protecting the Western Gate.
The Imanishi's have maintained the house, now the oldest property in Imai-cho, very well throughout the centuries. They are still the proud owners of this property today.  
Other Residences
---
Like the Imanishi Residence, several other historic houses can only be visited by prior appointment and an admission fee is charged. They include the Toyoda Residence, the Ueda Residence, the Kawai Residence, the Otomura Residence, the Takagi Residence and the Yamao Residence.
Kawai Residence
is actually a sake brewery. In business for 280 years, they are still going strong and produce and sell sake on premise. The next door Takagi Residence housed a liquor shop. The splendour of the two houses, both located in Naka-Sonbo, tells us that the two families must have been extremely rich during Edo times.
Sake is not the only brew that is produced in Imai. The
Tsuneoka Soy Sauce Distillery
brews soy sauce the old-fashioned way in big wooden pots in an Edo Period warehouse. The have been in business for 200 years in Imai.
Many of the old buildings have come back to live in recent years. They house some shops, galleries, cafes and restaurant. There are even a couple of machiya where you can spend the night!
FURUI
is a chaya (teahouse) located in a machiya, an historic merchant house. The house is from the early 18th century, and it was used as a store and sake brewery before. Nowadays it is a lovely café with a nice garden to sit outside during the warmer season. Several tables and chairs with parasols and some benches are set in the machiya's courtyard.
They are surrounded by greenery and historical items for decoration. There is even a small stream running through. Their trademark lunch is a set meal of hot soba noodles and kakinoha sushi, sushi wrapped in persimmon leaves.
Sato
is also located in a removed historic house. Guests at Sato can enjoy the view of a nice Japanese-style garden from inside the café. Several low tables are set on a tatami floor; you sit on cushions or on a comfortable sofa.
For lunch you can eat a meal of Japanese curry rice with salad and a clear soup, but better come here for your mid-afternoon break because this café is famous for their home-made cheese cake. What's more, you can choose your cup that you would like to have your coffee, tea or hot chocolate served in.
From wonderful sights to the culinary, Imai-cho is fully prepared to welcome you and make your stay an unforgettable experience!
Getting there
Access to Imai-cho, Kashihara City, is via Kintetsu Rail from Kintetsu Osaka Abenobashi or Kintetsu Kyoto or Kintetsu Nagoya. You need to change trains at Kintetsu Yamato-Yagi Station. Get off the train at Kintetsu Yagi-Nishiguchi Station. Imai-cho is a 5 minutes walk away.
You can also walk from Yamato-Yagi Station. Then it will take you 10 minutes on foot.
If you come by JR from Osaka, Kyoto or Nagoya, get off at JR Unebi Station. From the station it will take you 8 minutes on foot.
Exploring Imai-cho on bicycle is a great alternative. Rent a bicycle at Kintetsu Yamato-Yagi Station or at Kintetsu Kashihara Jingu Station. To Imai-cho it is a 20 minutes journey by bicycle.
By
Alena Eckelmann