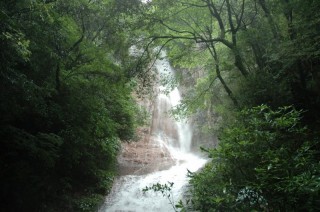 THE JAPAN NEWS
Scenic waterfalls often visited by the domain lord
---
Tsuwano is a castle town nestled in a narrow valley, between the Aonoyama and the Shiroyama mountains, the latter loosely translated as "castle hill". From its snowfall in winter and bountiful rain in other seasons, it is a perfect location for a clean and abundant water supply.
This abundant and clean water not just helps traditional livelihoods like sake brewing, wasabi growing and
washi
Japanese paper making, but also creates beautiful waterfalls.

Naru Falls (in Machida area)
The water of this 16 meter high water fall is said to be so clean, that people of Tsuwano's were still using it as drinking water until recently.
34.458581, 131.772257
.

Shiraito Falls (Takamine area)
This is located in the Takamine area of Tsuwano. After heavy rain, the water falling directly into the basin look like white threads, giving its name in Japanese. It is said that this waterfall was one of the favourites of the Tsuwano domain lord.
The GPS position of the waterfall is
34.4538175, 131.7415242
.

On Falls and Men Falls (Otada area)
These two waterfalls were often visited by the domain lord of Tsuwano, for the coolness they bring in the summer as well as its scenery. Sometimes the domain lord would come equipped with his drawing tools to sketch the beautiful scenery.
The approximate GPS position of the On Falls is
34.514258, 131.841778
and for the Men Falls is
34.5126471,131.8411321
.
 By
Denes Perlaky