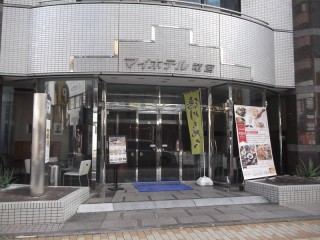 JAPAN TRAVEL
A good value business hotel in a great location
---
Every autumn I go to Shizuoka for the Daidogei
street performance world cup
, a very fun event that takes over the city for four days. In order to be close to everything I try to stay as centrally as possible, and it would be hard to find somewhere more central than My Hotel Ryugu (the 'My' really is part of the name). Just a few minutes from the stations, the park and the main downtown area, it's also perfectly comfortable and very affordable.
If you speak no Japanese, have no fear: at the time I write this, at least one of the front desk staff was another native speaker, another highly fluent (having lived in Brighton in the UK), all spoke at least a little English and were friendly and helpful. They'll be quick to give information and recommendations, and if you ask nicely they'll let you overshoot check-out time a bit.
You're more or less immediately next to
Cenova
shopping centre, also home to Shin-Shizuoka station, terminus of the local
Shizutetsu rail line
. It's not far to Sunpu Castle Park, while charming
Hodai-ji
temple is immediately next to the hotel, Obeissan shrine and
Keyo-in
temple just down the road. And being in the heart of a good sized city, you're very well served for other shopping, dining and drinking options.


 
Getting there
The hotel is less than five minutes' walk from JR Shizuoka station; it's best to use the underpass from outside the north exit, because the road layout around the north side of the station is a bit pedestrian-hostile. From Shin-Shizuoka station, it's just two minutes' walk.
By
Peter Sidell