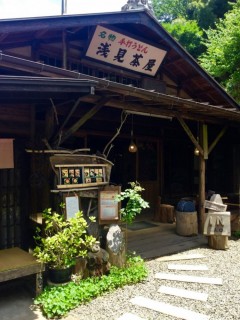 JAPAN TRAVEL
Tea house deep in the forests of Agano
---
This is an article I hesitate writing because I want to be selfish. I do not want to share this place with
anyone
. I do not want hoardes of people coming -- it was crowded enough on the Monday we went, still within the cautious period of Covid-19 and despite its being located 2 kilometers deep into the forests of Agano. How much more crowded could this place be on the weekends and without a pandemic?
But our experience at this tea house was so spectacularly good it begs to be written about and shared.
I first learned about Asami Chaya from an NHK program featuring my coworker's bed and breakfast and made a mental note to visit as it was only roughly a 20 minute drive from where we live. The road, the same one that heads to Chichibu, was relatively straightforward until you get to the bridge to turn to Togo Park.
But the road ends and there it is, Asami Chaya, a house that is over 160 years old (imagine that!). The house was opened as a tea house in 1932. Today, it is run by the third generation of the Asami family.
Typically, a place this beautiful serving handmade noodles would have an overpriced menu and snooty staff. Not Asami Chaya. The basic udon set was priced ¥650. We ordered cold udon with a meat dipping sauce ¥800, and the same cold udon with leeks and chicken balls ¥900, and upgraded each to a large serving of udon (¥150 for an upgrade). Our order was served to us by Shigeo Asami-san himself, a cheerful man who obviously loves what he does.
The udon was served in handcarved bamboo. The noodles were beautifully uneven and so long you could practically eat only one strand at a time. The noodles were perfectly firm to the bite and with the chewiness that you can find only in the highest quality udon. This is, without a doubt, the best udon I have ever had in my life.
We rate this place five stars. I couldn't stay selfish. I had the moral responsibility to share a place this good with everyone.
Getting there
Right before you turn to
Togo Park
, you will see a sign that points to Asami Chaya (浅見茶屋) directing you to take a small road. Go all the way up 2 kilometers.
The road is winding and very narrow. Driving up is possible but stressful. If you are in good health, I recommend parking at Togo Park and hiking up (it should take 20-30 minutes). Parking space is available but limited.
By
Sherilyn Siy