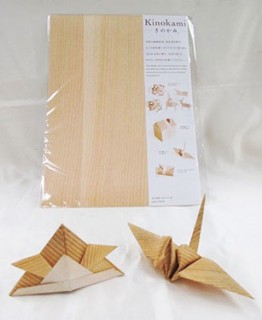 AJW ASAHI
The mountainous Yoshino region in southern Nara Prefecture is blessed with an abundance of forest resources. Cedar trees, first planted in the area about 500 years ago, are now widely known as one of the region's main specialties.  
The cultivation method was characterized by planting saplings in a dense arrangement. But selective trees have been thinned out by 90 percent or more over 100 to 150 years in favor of the remaining straight-growing trees.  
Timber obtained from forest thinning has found a new use as origami paper crafts.  
With the texture of a high-quality wood grain and a faint smell of wood, Kinokami wood paper consists of a thin slice of the timber sandwiched by sheets of traditional Japanese "washi" paper.  
In addition, when cedar trees grow slowly, their rings become aesthetically beautiful.  
Kinokami origami is also available at Nara Mahoroba-kan at the following address:  
Nihonbashi Muromachi 162 Bldg., 1st and 2nd floor, 1-6-2 Nihonbashi-Muromachi, Chuo Ward, Tokyo.  
Open seven days a week from 10:30 a.m. to 7 p.m. Closed from Dec. 31 to Jan. 3.  
Visit the official website at (
http://www.mahoroba-kan.jp/index.html
).