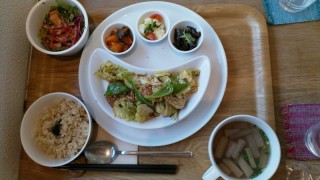 JAPAN TRAVEL
A Great Place To Eat And Learn About Macrobiotic Food
---
Sobe's Café
Sobe's Café is located in Hanamaki near Fuji University in the south part of the city. What is special about this place is that it's a macrobiotic restaurant and shop. They also grow their own organic rice, have regular seminars about the concept and benefits of a macrobiotic diet and have an online store.
As a vegetarian in Japan, I was surprised to find out that vegetarian options at restaurants are often lacking even when saying that I don't eat meat, I would find ham, bacon or chicken in what I ordered. Meat seems to be synonymous with red meat only, here in Japan.
I recently had lunch there for my wife's birthday, she's the one who told me about it. The place didn't disappoint. I had the curry set and my wife had the gluten set. I hadn't had gluten since I left Vancouver.
The gluten set was served with cabbage and green peppers, it was nice and tender, very well seasoned. too All lunch sets come with a soup, a salad and some pickles. The soup had red sorghum in it. Red sorghum is one of the grains that fall under the category of grains called zakkoku (雑穀米). It's a variety of mixed traditional grains that include millet, buckwheat, sorghum, black rice and others.
As mentioned earlier, Sobe's Café is more than a café restaurant, they have an online shop selling organic grains, oils and rice. They also regularly have seminar on organic foods and macrobiotic cooking and its benefits. Even though macrobiotic diet originated in Japan, it is not very well known here. So hopefully with their help it will gain some popularity.
You can find out more about the restaurant, recipes, their products and some events by visiting their web site (Japanese only) at this address;
http://cafe.sobe.jp/
GETTING THERE
Getting there is probably better done by car, they aren't near any public
transit lines, the bus yes but you can expect to wait a while. If you're coming by highway, take the Hanamaki south exit, turn left after the toll gate, go about 500 meters, turn left again at R-12.
Soon after (less than 100 meters) turn right, just after the Yakuodo store. At the third traffic light turn right, you'll cross a bridge and drive about 2 kilometers, at the third traffic light turn left, it's about 500 meters. Just before the last light there is a Sunkus convenience store on the right.