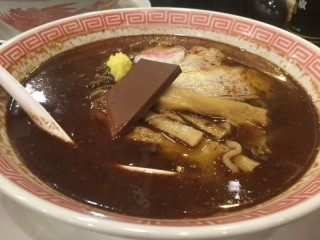 JAPAN TRAVEL
Ramen Chain Kourakuen's (In)Famous Valentine's Offering
---
For my birthday four years ago, my husband brought home a ramen cake from Sweets Paradise. It was a baffling experience to eat because visual cues signal you to expect something savory and salty but the ramen and all its toppings are actually crafted from sweets such as preserved fruit, chestnut cream, cookies, jelly, and sponge cake with cream. Needless to say it was a memorable present I still talk about.
Last Sunday, we headed to our nearest Kourakuen Unfortunately, the white chocolate version was out of stock so we had to content ourselves with the classic chocolate version. Unlike my Sweets Paradise experience, I was expecting this bowl of ramen to be sweet -- this was not the case.
From the ad photos, I expected a thick chocolate sauce underneath but instead, it really is a shoyu ramen with only a thin layer of chocolate/cacao oil layer on top. While we didn't get a chance to try the white chocolate version, expect a shio (salt) based broth and a thin layer of cream.
We were given complimentary bottles of nihonshu (Japanese wine) and chocolates which were part of the campaign until supplies last.
A bowl costs ¥640 and is available until March 11, 2020.
Getting there
With over 476 branches, there is sure to be a Korakuen restaurant near you. The branch we visited is the Hanno, Saitama branch best accessed by car.  
By
Sherilyn Siy