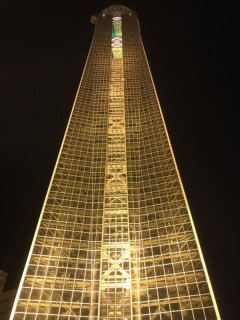 JAPAN TRAVEL
Impressive Views Over The Kanmon Strait And Shimonoseki
---
If you're visiting Shimonoseki in Yamaguchi Prefecture, there's no way to miss the dominant feature on the city's skyline - the Kaikyo Yume Tower. Completed in July of 1996, the tower reaches a height of 153 meters, with an observation deck ten meters below that.
The tower's appearance is quite unique - the top portion houses the spherical, glass-covered observatory, and there are a total of 8700 sheets of glass used in its design.
We visited the observation deck at night and got to enjoy the twinkling lights of boats on the water and the Kanmon Bridge. There was even an illuminated Ferris wheel off in the distance.
The entry to the observation deck is very reasonable - for local residents, it's ¥600 for adults, and ¥300 for children. If you're visiting from overseas, there's an added benefit for you: bring your passport along, and you'll receive a half-price reduction in the admission fee.  
Getting there
The Kaikyo Yume Tower is located approximately ten minutes on foot from the JR Shimonoseki Station, served by the Sanyo Main Line and the Sanin Main Line.
If you're driving to the venue, parking is available for 150 cars at the nearby Kaikyo Messe Shimonoseki undercover parking lot. Parking is charged at a rate of ¥100 per 30 minute increment.  
By
Kim B