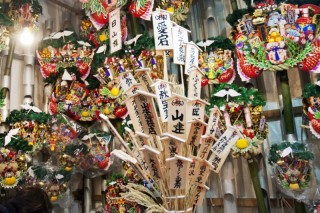 JAPAN TRAVEL
An Open-Air Fair For Good Fortune
---
When: Nov 2nd - Nov 26th 2020, 12:00am - 12:00am
The rooster is the tenth symbol in the Japanese zodiac. In Japanese, it is often called
tori
, and it is associated with gain and business fortune. Days of the rooster occur every 12 days in November and generally, the first day of the Tori is most important.
The Tori -no-Ichi is a fair, continuing from the Edo period, held on these days of the Rooster at Temple of Tori (Juzaisan Chokoku-ji) in
Asakusa
. People come here to pray for good fortune, good business and health.
koban
(old gold coins), popular to bring prosperity in business. People usually change for a bigger bamboo rake year by year.
The Temple of Chokoku was established in 1630, during the Edo Period. In 1868 one part of the Chokoku-ji became
Otori Shrine
, because of a government ordinance that decided to separate Shintoism from Buddhism.  
In 2019, the Tori-no-Ichi fair will be held on the 8th of November and the 20th of November.
By
Gloria Ticconi