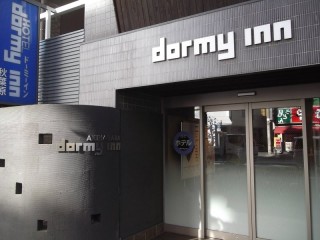 JAPAN TRAVEL
Enjoy The Rooftop Bath At This Central Business Hotel
---

 
I'm not going to pretend to be objective: I love Dormy Inn hotels, so when I saw a discounted night available for a staycation I was planning in Tokyo, I snapped it up and started looking forward to my stay.

Right in the centre, with a decent sized room, and the usual sauna and outdoor bath, what's not to like?

The usual amenities were in place, with my small fridge and kettle and hangars, a sleek TV on the wall at the foot of the bed, and a special mention goes to the heavy-duty fluffy monsters of towels..

But I have no need of a bathtub when there's a public bathroom, and wow, they've made the best use of the limited space. There's a good steamy sauna, with mellow music piped inside, and a cold bath nearby if you want to do it properly in Finnish style, while teaching some new English words to the improbable number of midnight bathers.

The indoor bath is nice to relax in, but the outdoor one is better. The stone paths, rocky landscaping and trees give some impression of being out in nature, there are chairs to sit in and take the air between soaks, scented wooden balls in the water, and a big TV to watch while you unwind.

It's easy to forget that you're in the middle of a crazily bustling megapolis, which is no mean feat at all.

We get absolutely spoiled.

And that's why I love it!
 
Getting there
It's just two minutes' walk from Suehirocho station on the Tokyo Metro Ginza line, or around six minutes from Akihabara station.

There are a handful of room types; rates will vary with the room type and season, but you're unlikely to be paying more that JPY6000 a head, possibly much less depending on how you book.