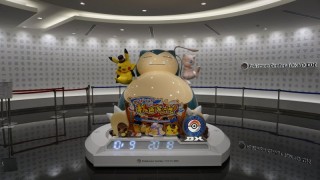 JAPAN TRAVEL
Feasting In The Style Of A Pokemon Master
---
apan is globally known for its themed cafes: from quirky
maid
and
butler
cafes,
robot-themed
cafes, to those with specific
cartoon
themes. Every single one of those cafes is interesting, each of them serves a unique experience.
But the ones that earn the biggest accolades are none other than cafes with themes of original Japanese films or
anime --
especially those who had been around for decades and have a strong fan base. One phenomenal example? Pokemon Cafe.
Pokemon Center
(Pokemon's official store) as I could, to see (and buy) anything related to Pokemon.
It is a bit odd that despite its massive popularity across the globe, with its age of almost a quarter century, and with official stores everywhere, it was not until 2018 that Pokemon franchise opened its own official themed-cafe, right at its home country. Only God knows for how long its fans had been waiting for this to come, so it's no wonder that people became so enthusiastic about the opening of the cafe—including me, whom straight away included the cafe to my to-do list for my second Japan trip.
Yes, to enter Pokemon Cafe, visitors need to make reservations online and select the available time slot. This is actually pretty convenient because visitors can avoid unnecessary waiting list and know when exactly to come. But it only means that visitors must fight for their seats in order to secure themselves inside the cafe (and looking at the huge excitement from locals and tourists alike, seats in this cafe can run out very fast!).
My turn finally came. A very lively atmosphere suddenly came all over me, now getting funnily uneasy than ever.
The staffs that served me were so friendly and full of energy, all aligned with the cafe's colorful tones which was so full of... Pokemon! I was so ecstatic to see all my favorite Pokemon came in the form of pictures, dolls, and even life-sized statues! The room of the cafe itself was really spacious, with wooden elements that boosted the warmth of the mood. Since I came only by myself, I was seated in the cafe's central huge table, joined with other solo visitors or couples.
There are milk, tea, and coffee for drinks, including Eevee latte, and floats with electric colors featuring three legendary Pokemon birds: Articuno (blue Freezer Float), Zapdos (yellow Thunder Float), and Moltres (red Fire Float). Aside of that, Pokemon Cafe features seasonal menu such as Valentine and Halloween (I came during this time, and so I ordered a spooky Gengar smoothie!), or during the release of a new Pokemon generation. These menu range from ¥1,600 for foods and ¥660 for drinks.
Just when I thought I had one of the best day of my life, Pokemon Cafe apparently still got something under their sleeve: a huge Eevee came from the back of the cafe to say hi to all of the visitors! The cute live doll was accompanied by a cheerful staff that made the whole room even brighter. Everyone was overwhelmed when they were given a chance to say hi to Eevee in person, pet him and even take photos of/with him.
When I asked to one of the staff about this surprising event, they claimed that they had two Pokemon (one Eevee and the other one being, who else but the star himself, Pikachu!) that only came out on certain, unscheduled time—I was so lucky to come at the right time!
Some of the items were displayed inside glass cabinets, as a part of the cafe's decoration. If you think that these stuff aren't enough to fulfil your eternal hunger of Pokemon, Pokemon Cafe Tokyo is located just next to one of Pokemon's official store: Pokemon Center DX!\  
Getting there
Pokemon Cafe is located on the 5th floor of Takashimaya department store, only 4 minutes on foot from Nihombashi Station, or 10 minutes on foot from Tokyo Station Yaesu Exit.
By
Vicky Amin