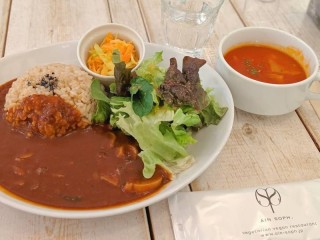 JAPAN TRAVEL
Vegan eats close to Ikebukuro Station
---
In early summer I had a friend come and visit Japan, and that friend of mine is vegan. That means we have to hunt down vegan eateries to dine at, but thankfully there are quite a number of great options to enjoy in Tokyo - and more and more are popping up all the time. We had both previously eaten at
Ain Soph Ripple
in Shinjuku, so we decided to try their sister restaurant Ain Soph Soar in Ikebukuro.
The first thing you'll notice when you walk in is the decor. It has a bit of a farmhouse/rustic chic vibe to it, with whitewashed tables, charmingly mismatched chairs, and potted greenery scattered around. We felt comfortable right away! The true test though of any good restaurant is ultimately the food, and we were impressed there too.
Those with a sweet tooth don't miss out here either. Their pancakes are incredible, and have the additional benefit of being gluten free as well as vegan. Many of their cake and muffin selections seem to rotate on a seasonal basis, but the pancakes are a permanent item.
Getting there
Ain Soph Soar is located an easy 10 minutes on foot from Ikebukuro Station. The restaurant is also in close proximity to other local attractions like the
Sunshine Aquarium.
By
Kim B