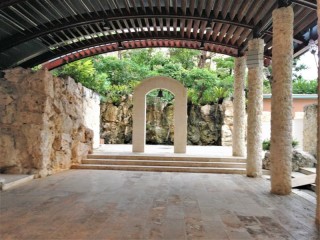 JAPAN TRAVEL
Homage To An Golden Age
---

I first stepped into this hotel five years ago, visiting friends from halfway across the world. Little did I know that I was following in the footsteps of sojourners from long ago.

You see, a few hundred years ago, when Naha was a trading hub, dignitaries and scholars would sail into the harbor, and pay tribute to the rulers and administrators high on the hill.

In nearby Shuri Castle, they would watch over maritime and land activity below, not forgetting the days when the island was divided into three kingdoms, each keeping an eye on the other.

One thing that caught the eyes of the rulers at Shuri Castle, was the arrival of the black ships on a rainy day on 24 May 1853, captained by one Commander Perry. Little did he know how instrumental that visit was, a month before Perry's visit to Uraga near Yokohama on 8 July. Narrative of the Expedition of an American Squadron to the China Seas and Japan, Perry admired these islands' beauty, glowingly saying, "The shores of the island were green and beautiful from the water, diversified with groves and fields of freshest verdure.

And of Naha, he mentioned that the "roofs were of red tiles, of excellent manufacture, and this, with the dark-green foliage of the trees which studded the city, the walls topped with cactus, and the occasional appearance of a palm or banana, reminded me of towns in Sicily."

These days, dignitaries from near and wide stay at the Naha Harborview Hotel, located just a five min walk from the modern center of power at the Naha City Hall. While it is only 30 meters high, it is much higher than the streets of downtown Naha which is practically at sea level.

While it is some distance from the harbor itself, it is high enough to watch the moon rise, especially from the above-mentioned rooftop bar on the 12th floor, towering over Shuri Castle.

The 1970s were the beginning of the golden age of travel in Okinawa, from its reversion to Japan in 1971, to a host of openings to cater to visitors from Tokyo who were keen on a sub-tropical domestic holiday, such as the Oceanic Culture Museum and the Churaumi Aquarium.

While the hotel was renovated in 2007, it still has a feeling of going back in time, a far cry from the spa temples like Hyakuna Garan.

It is also one of the few hotels in Naha with an outdoor swimming pool, though it is only open during the warmer months.

With its boulevard-like entrance, it is designed for taxis or limousines to chauffeur you around town, not that you expect the society brides to make the 8-minute walk uphill from Tsubogawa monorail station.
Getting there

Why take the 22-minute monorail + walk from the airport, when you can travel in style by car or taxi from the airport via the expressway?