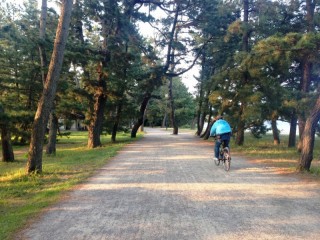 An Excursion To a Land Of Poets and Dragons
---

For a peninsula that has drawn poets and writers like Izumi Shikibu, Amanohashidate is surprisingly quiet. While the sand spit lined with an avenue of pine trees is the star attraction, there is another side to Amanohashidate, one that you can more readily sense on a bicycle, and take in the charms that you would not otherwise notice.

Who would have thought, you can take a picnic hamper full of cheese and wine from the nearby winery and watch the sunrise or the sunset over pristine squeaky white sand beaches in Kyoto Prefecture. It is a great way to eat, drink, and feel the bygone elegance of Amanohashidate.

 

On the way to the sand spit, there are dried seafood stores, restaurants and a number of bicycle rental stores. While these push-bikes here won't win you the Tour de France, you can hire one starting from 400 yen for two hours, and make your way towards Ichinomiya. If you have a full day, keep going around the coast to Ine Bay.
 
Near the ferry terminal is Chionji, a temple for students and candidates to gather intelligence and insight. As one of three monju temples in Japan, it is associated with Manjusri, a bodhisattva associated with transcendent wisdom. However there is now an easier way. Drop by at one of the four Japanese cafes, and try some local delicacies called chie no mochi, or wisdom dumplings. In a land where you can acquire wisdom with temple charms, you can now eat it for breakfast.
 

 
 
 
If you are tempted to linger a little longer, check in at the Genmyoan Ryokan, with a spectacular outdoor bath to soothe your body from 80,000 yen. Those on a tighter budget can relive the glory of centuries past at Seikiro, a ryokan frequented by writers and poets of old.