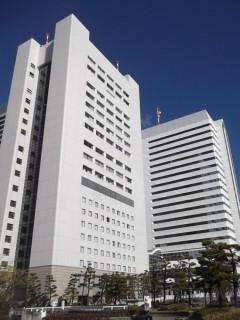 JAPAN TRAVEL
Treat Yourself To Affordable Luxury On Tokyo Bay
---
Each year I try to take advantage of the fact that hotel prices plummet a few days after New Year, and treat myself to an inexpensive stay somewhere that would usually be out of my range.
This time I found a crazy low rate at this stylish bayside hotel, and booked myself in for three nights of relaxation.
I was checked in quickly and smoothly by a very capable English speaker, in a spacious lobby that features a piano and a cafe overlooking the bay.
My room was pretty compact, but still plenty big enough for a solo traveler going very light, and with everything I needed; big comfortable bed, fridge, desk, good Wi-Fi, a couple of bottles of water each day, and a more than usually large TV on the wall facing the bed.
Up on the 18th floor, the public bathroom is where I'd go to relax after a day out seeing the sights.
I'd steam in the sauna, with occasional dips in the iciest of cold baths for an authentic hardy Finnish-style experience, then either lie back in the bath or sit and fizz it up in the jacuzzi. There's also a small adjacent room with comfortable reclining seats, which you can lounge on as you admire the view.
Hamarikyu Gardens
, a beautiful traditional garden, and is also not far from a nice smaller garden,
Kyu Shiba-Rikyu
.
There are some nice restaurants in a couple of nearby office buildings, a wider range of places to eat and drink around Hamamatsucho and Daimon stations, and a supermarket and numerous convenience stores within easy walking distance.
Getting there
It's just five or six minutes' walk from JR Hamamatsucho station north exit, or Toei Daimon station exit B1, depending on how long you have to wait at crossings in what is a very roady area.