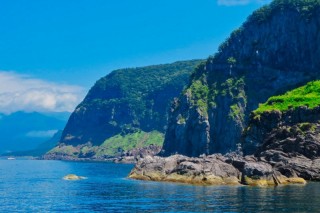 JAPAN TRAVEL
The End Of The Earth
---
Nestled in Northeastern Hokkaido is a nature lover's paradise. World Heritage Shiretoko National Park is home to the largest concentrations of brown bears in the world. Over 300 and counting, these animals live on a peninsula that runs 70 kilometers long (43.5 miles) and 26 kilometers (15 Miles) at its widest.
During the winter on the Sea of Okhotsk the harsh strong winds from Siberia cause ice drifts which during the spring melt and provide special food for a multitude of salmon. On the Nemuro Strait side where no ice is formed the coast is lined with kelp harvesting stations. Running right down the middle of the peninsula is the Shiretoko mountain range.
Aside from guided hiking, there are two other ways to enjoy this National Park, one - via cruise; and two - an interior bus tour. From April to October you can enjoy a 3 hour and 45 minute cruise on the Sea of Okhotsk down to Cape Shiretoko. It starts at Utoro Port passing many beautiful waterfalls. The first is Frepe Falls also known as Oteme no Namida (a women's tears). It is fed by an underground spring and is also accessible via the bus tour.
You may spot Brown Bears, White Tail Eagles, Spectacled Guillemots, Asian House Martins, Japanese Cormorants, Red Foxes, Orcas, Seals, Sea Lions, Dolphins, and Salmon. You can rent binoculars for a small fee.
Aurora
takes you to the Cape and also provides Drift Ice tours during the wintertime.
From the top of Shiretoko Pass on a clear day (very unusual) you can see Kunashir Island (currently controlled by Russia). The main objective of this tour is Shiretoko Goko Lake (Five Lakes). When you arrive, there is a required lecture on safety and rules of bear sightings. There are two options: a safe walk on the elevated wooden path (1.6 Kilometers round trip) or a fee based guided tour (3 kilometers) on a ground pathway. There a several reasons for the required guide, one being this is brown bear habitat, and second to prevent ecosystem damage.
Shiretoko World Heritage Conservation Center
.
Both tours provide breathtaking scenery that you will not find anywhere else in Japan.  
Getting there
Daily flights from Tokyo and other Japanese cities to Memanbetsu Airport. Bus from Airport directly to Utoro near the Park entrance.
By
Rey Waters