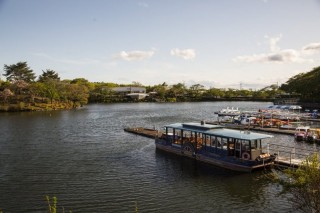 JAPAN TRAVEL
Family-oriented theme park with a massive pink duck
---

Tucked in the outskirts of Tochigi Prefecture near the Nasu Highlands is Nasu Rindo Lake View, a quaint theme park that offers a fun weekend trip for the family.

The biggest draw at Nasu Rindo Lake View is its 20m-high "Pinky Duck" that looms over the lake like a comical guardian deity. Weighing two tons, this behemoth even has characteristics such as loving soft serve ice cream, and unfazed in the face of strong winds and rain.
Visitors can either take a short boat ride across the lake to see Pinky, or stroll around the lake, bypassing some of the place's rainbow-inspired designs. There are various rainbow-colored benches, a rainbow shelter, as well as a crosswalk where you can do your own Beatles Abbey Road pose.
At the park's main area, there are rides like go-karts, a small train that goes around the area, archery, and VR baseball experiences (¥1,000 for a try). While there are no roller coasters or other thrilling rides as the park is family-centric, it is perfect for children as there is a ninja obstacle course (¥1,000 for a try) for them to channel their energy, as well as Airwheels (¥1,000 for a 20-minute ride), a Segway-like mobility device.
Animal lovers can also rejoice as Nasu Rindo Lake View is home to horses, llamas, alpacas, and other animals. They participate in a daily parade around 2.30pm when their handlers walk them down a path lined with beautiful flowers.
The farm is known for producing its own yogurt milk, which is made from milk produced from their cows. A soft serve ice cream specialty, called Cloudy Cream, is also available and costs ¥500. Placed against the blue sky, the ice cream, with its whitish cone, looks like a cloud, which is where it gets its name.
After a tiring day, head to Mekke restaurant near the entrance to indulge in an extravagant buffet to replenish your energies (¥2,700 for adults and ¥1,350 for elementary school children). Before heading off, be sure to buy some of the homegrown yogurt milk and other products from the theme park to remember your time here.
By
Ignatius Koh