Category:Shrine and Temple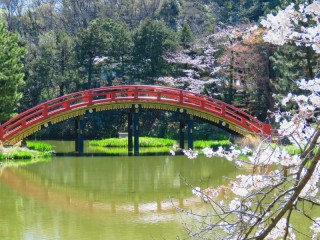 JAPAN TRAVEL
A Great Historic Photo Spot For All Seasons
---
Declared a National Treasure in 1922, Shomyoji Temple is located in Kanagawa Bunko near Sea Paradise about 20 minutes by train from Yokohama station.
It was the family temple of the Kanazawa Hojo clan built in 1258. The first thing you will notice about Shomyoji is Akamon (main gate) with the long walkway to the temple compound. In the spring it is lined with beautiful cherry blossoms. The second temple gate features the two guarding gods Niomon and Niozo, placed there in 1267.
During early summer the pond is filled with yellow irises and in the fall the leaves are stunning against the scenic background. At the end of the two bridges is Kondoh, the main hall, Shakkado to the right, and the Bonsho Temple Bell. The bell was placed there by Hojo Sanetoki to commemorate his father's death and was recast in 1301.
During the month of May there are night time traditional NOH theater performances.
At the end of the garden are some steep steps leading to a historic cemetery. Keep walking along the trail to Mt. Hinata and Mt. Inari. When you reach the top there is a small building where you can take a rest and some nice panoramic pictures of the Yokohama area.
During your visit, plan on spending several hours, especially if you use the hiking trails.
There are free English guided tours on the weekends from 10 am to 3 pm.

Getting there
You can take the Seaside line to Uminokōen-Shibaguchi Station (10 minute walk to Shomyoji) or Keikyu line to Kanazawa Bunko Station (12 minute walk)
Please note there is no auto parking provided at Shomyoji.
By
Rey Waters