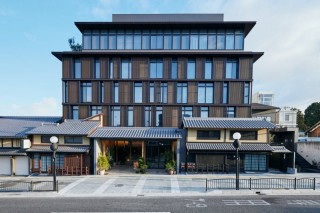 JAPAN TRAVEL
Nohga's Formula Of Luxury With Local Influence Arrives In Kyoto
---
Nohga Hotel turned heads when its flagship hotel launched in Tokyo's Ueno area back in 2018, which quickly followed with an Akihabara opening in 2020.
This month—in a show of further defiance to the pandemic's impact on tourism—a new Kiyomizu branch brings the boutique hotel brand to Kyoto for the first time. Expect that familiar concoction of contemporary design inspired by local craftsmanship and artisanal influences.
Kiyomizu's central location is an ideal launchpad for any Kyoto-bound traveller. Just off Route One, Nohga Hotel is a 10-minute walk from Kiyomizu-dera, one of Kyoto's top Buddhist temples and known for its iconic hillside viewpoint of its wooden veranda contrasting with Kyoto's cityscape on the horizon.
The hotel's modern and spacious design brings local creativity into play, with art installations and a warm lobby environment giving the hotel a unique character and refined, relaxing vibe that is no doubt familiar to visitors of other Nohga properties.
But Nohga Hotel also offers plenty of ways for guests to unwind a bit closer to home.
From the rooftop bar (tacos, pinchos, craft beer & signature cocktails) to the hotel's own exclusively produced audio soundtrack (expect Kyoto-born or based artists, like Jizue, JABBERLOO &, Daisuke Goto) that will sooth the mind in the Meditation Room, Nohga has something for everyone.
Get a feel for Kyoto without leaving the hotel, with one of the many experiences that can be arranged for guests, including a YUGEN KYOTO matcha activity,, drip coffee by speciality coffee specialists Kurasu Kyoto, or an aroma experience with Kyoto-born expert, Tomoko Saito.
Tom Roseveare