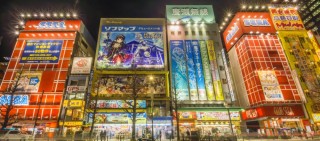 GAIJINPOT TRAVEL
A hardcore gamer's den in Akihabara.
 
---
While retro-style arcades have started to make a resurgence in the West, in Japan they are a staple and can be found all over.
The problem is, especially for those hungry for a taste of nostalgia, most arcades are now stuffed with crane games — basically slot machines for 
otaku
 (in this case, anime/manga lovers) —  and 
purikura
 photo booths.
Hirose Entertainment Yard, better known as Taito HEY, in 
Akihabara
 is one arcade where game freaks can still enjoy the titles of yesteryear. If you've ever wanted to pilot your own Gundam robot — which, of course, you do — definitely make this a stop on your tour of Akihabara, Japan's heartland of nerd culture.
Inside HEY
---
HEY is pretty easy to miss if you don't know what you're looking for. The entrance off the main street is overshadowed by the flashy lights and giant signs characteristic of "Akiba." Keep an eye out for an orange sign sandwiched between SEGA Arcade one and three, right next to the Tax-free Shop. The inside is dark, dingy, and smells like cigarettes —  basically the blueprint of the Japanese arcade experience.
The inside is dark, dingy, and smells like cigarettes
The third floor offers mainly fighting games like the most recent versions of Street Fighter, Tekken, and Virtua fighter, but also has classics like Darkstalkers. The most popular part of this floor is the Gundam Versus games, a Gundam fighting game that is really difficult to pick up, but insanely popular.  
The more unique arcade experiences, like the Gundam pods, are up on the fourth floor. What's a Gundam pod? Just a dope cockpit that lets you pilot your own giant robot against or with your friends! There are also games that use collectible cards to give you access to characters or equipment.

These are a little less accessible, due to their complicated Japanese instructions and high price, but are still cool to check out as they don't exist outside of Japan.
brushing up on some Japanese
 characters before you head over.
HEY isn't the most unique arcade in Japan — for that you might want to check out the abandoned city vibes at 
Anata no Warehouse
 —  but its convenient location and great selection make it a great pit stop for gaming nerds.
Things To Know
---
HOURS AND FEES
HEY is open every day of the week from 10:45 a.m. to 11 p.m. Games range from ¥100 to ¥1,000.
How To Get There
---
ADDRESS
Japan, 〒101-0021 Tokyo, Chiyoda City, Sotokanda, 1 Chome−10−5 廣瀬本社ビル

BY TRAIN
Take the Yamonote, Chuo, or Keihin-Tohoku line to JR Akihabara station go out via the Electric Town Exit. HEY is about a three to five minute walk away on the main street between SEGA Building one and three. It's right next to the Tax-free Shop.