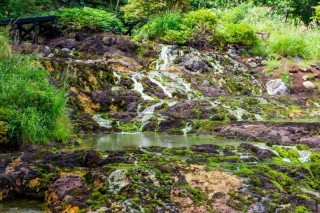 JAPAN TRAVEL
A Trip To The Pit Of Hell
---
Chatsubomi Moss Park (チャツボミゴケ公園) is a natural area preserved by the Ramsar Convention. It was incorporated into the Nakanojo area in 2012, and is about 30 min away from the popular onsen town Kusatsu. The park is a natural wonder - beautiful to the casual visitor, but also a deeply unique and fascinating environmental landscape.

What Makes Chatsubomi So Extraordinary?
Chatsubomi is actually the name of the moss found in the park, also known as
marigoke,
meaning "ball moss." Chatsubomi Moss Park is one of the few places in the world where you can see this moss, and the only place in Honshu where it grows.
The moss is extremely unique, being the most acid resistant moss breed in the world. It has to be, because the water in the park is extremely acidic.
Visiting Chatsubomi
The easiest way to access Chatsubomi Moss Park is by going through
Kusatsu
. I say easiest, but the road is narrow and winding. It goes through the forest and mountains, and has many hairpin turns. The road is well marked with directions to the park, however.
Once you get to the park, there is a 600円 entrance fee. From the visitor's center area, you can either take the walking path (approx 30 min walk) or ride the shuttle bus up to the Anajigoku area. The bus ride is only around 5 minutes, and the buses come and go based on when visitors are present. After the bus stop, there is a brief hike up to the spring.
I have only been to the park in the summer, but it's beautiful in all seasons. In the summer, you can see bright blue dragonflies flitting around the marshlands. In the spring, pink azaleas give a gorgeous contrast to the green moss. In fall, red momiji take give the same contrasting effect.
After you've finished exploring, you can head back to the visitor's center. There's a small shop selling produce, pots of moss, and handicrafts from local artists. The real highlight of the shop is Chatsubomi's gelato.
hanamame
(sweet bean),
houjicha
(roasted green tea), milk, or Chatsubomi's signature flavor. The signature flavor is a chocolate mint swirl of brown and green gelato, so it looks like a little bit of the park's moss in your cup. It's an excellent treat after end your visit with.
No matter the season, a trip to the pit of hell is well worth your time. It's a great break from the resort atmosphere of Kusatsu, and an off-the-beaten-path adventure.
Tsumuji
building. You can get a booklet for 500円 that offers discounts to onsen, parks, and gardens all over the Nakanojo area. With the booklet, entrance to Chatsubomi goes from 600円 to only 100円.

Getting there
From Kusatsu
by car
Follow Route 55 to the Tenguyama ski slope, then turn right onto the Nakanojo-Kusatsu road. There will be signs in English and Japanese directing you to the park.