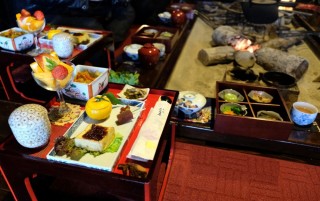 GAIJINPOT TRAVEL
Live and bathe like the locals — in a cauldron — at this historic and tattoo-friendly spot.
---
Who hasn't thought about quitting their day job to move out into the wilderness, live off the land and trade modern convenience to find true happiness? That's exactly what the owners of Kochi Prefecture's most historic inn did. And it's what travelers get to experience while staying here.
Chojuan Inn is a local
minshuku
(traditional bed and breakfast) hidden deep in the mountains a few hours from Kochi station in the heart of Japan's least populated island, Shikoku.
Owners Hitomi and Shoji Hongawa are a happy-go-lucky husband-and-wife duo who are a great representation of what you can discover beyond the so-called "Golden Route" of Tokyo, Hakone, Kyoto, Nara and Osaka.
Located in Yusuhara Town, the more than 250-year-old historic thatched-roof guest house greets you with the aroma of burning cedar and cypress logs.
Before you, lies the giant
irori,
a traditional indoor fire pit built into the wooden floor that's big enough to fit eight or so people around it. It's here that guests can partake in delicious Kochi-style cuisine crafted by the owners. You can even sample a drop or two of mountain berry alcohol, after a day of exploring the secluded mountainside that supports this community. (Because of the locale's mild weather, the optimal time to go is in summer.)  
Stay at Chojuan
Opening the sliding door coaxes you even further from the modern world to the spacious tatami mat guestroom complete with demon masks — and other traditional handicrafts — on the wall like your own personal museum.
Chojuan offers a rare chance to bathe like the locals once did. In a "
geomen buro
," or cauldron bath, guests submerge themselves in a metal kettle heated by a wood fire. As legend has it, Kochi's very own Robinhood, a thief named Geomen, was actually boiled to death in this contraption. Thankfully today, it is simply another way to immerse yourself into Japanese bathing culture.
Despite its history, the house does still have an additional bath, electricity, running water and western toilets.  
Food and drink at Chojuan
The meals also keep with tradition. Chojuan serves up homemade Kochi cuisine, including native
sansai
(mountain plants) like fuki-no-to, which is a bitter leafy veggie used for tempura, or
yusuraume
, a small red fruit with a pit they use to make sweet and dangerously good pink
shochu
(traditional hard liquor).
Any given meal has the flavors of more than 35 different types of plants, veggies, fruits and seeds all from Kochi (with the exception of fruits like apple).
You can even do a sansai-picking experience on a short guided walk and they'll cook your spoils for you. The meals can be included in a stay at the inn, or daytrippers can book a lunch or dinner here. Lunch starts at ¥1,600.
Tour
There is a private tour plan to go to Yusuhara Town and Chojuan by car, which is the easiest way to get there.  View
tour. 
There is also a washi paper-making experience which is optional. Discover more about
Kamikoya Washi Studio
.  
Things To Know
---
Making a reservation
The owners are quite friendly and welcome all travelers but do not speak much English. There are two options to book, depending on your language ability. If you are fluent in Japanese or can have a Japanese speaker make the reservation, you can book by calling 0889-62-3031.
(For international callers, dial +81-889-62-3031.) For non-Japanese speakers, you need to get a travel agent to book for you such as with the above listed tour. (Make sure to let them know about allergies/special diets.)

How To Get There
---
Address
1621-1 Yoshiunohei, Tsuno, Takaoka District, Kōchi Prefecture 785-0505, Japan

By train
From Kochi Airport, you can take the airport bus to JR Kochi station for about 25 minutes. From Kochi station, take the Dosan line to JR Susaki station (this is the nearest train station). From there, you can take a bus or arrange pickup. Please see bus or car directions.

By bus
Take a bus for 50 minutes from JR Susaki station to the Shinden (新田) bus stop. You'll need to walk from there or arrange car pick up service with the owners when you make a reservation.
Bus Times
From JR Susaki station to Shinden bus stop: 6:47 a.m., 8:17 a.m., 10:37 a.m., 1:22 p.m., 3:32 p.m., 5:40 p.m., 6:55 p.m.
From Shinden bus stop to JR Susaki station 6:40 a.m., 7:17 a.m., 8:37 a.m., 11:17 a.m., 2:17 p.m., 4:07 p.m., 5:37 p.m.

By car
You can arrange a car pickup service with the inn from Shinden bus stop. Pickup service costs around ¥500 each way, which you can arrange by calling 0889-62-3031 (for international callers, dial +81-889-62-3031.),  if you can speak Japanese. (Otherwise, you can walk or do the tour option.)