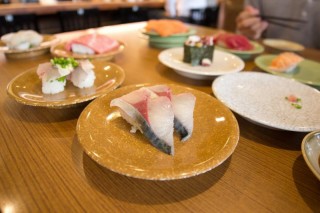 JAPAN TRAVEL
One of the best sushi restaurants in Beppu
---
A local favourite in Beppu, the city of hot springs, Kame-sho will more often than not have long lines out the door for their fresh sushi. Located close to the Hell Onsen Tour, make a visit to this restaurant for an authentic local restaurant experience.
With fresh catch and skilled sushi chefs, you will definitely see why there are always lines outside Kame-sho's doors!
I was introduced to Kame-sho by a friend living in Beppu, and it was a very delicious lunch. We ordered so much sushi that we couldn't finish it all, but luckily they do takeaways and packed it in a lovely little box complete with condiments and chopsticks.
The next level up starts at ¥150, and this range includes shrimp, Aji (horse mackerel), and tuna. Next is the ¥200 section, and this includes squid, shrimp, and yellowtail. Then you have the ¥260 section which has salmon, fatty salmon, fish roe, and salt water eel.
The most expensive sushi costs ¥360 per plate and this range includes all the goodies such as fatty tuna, giant prawns, scallops, and sea urchin. Depending on your budget, you can order accordingly and still have some delicious sushi whichever price range you are going for. 
By
Jaime Wong