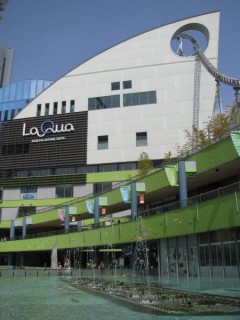 JAPAN TRAVEL
A Very Nice Place To Relax And Recover
---
Onsen towns are spread all throughout Japan, but you will also find spa and public baths in the centre of Tokyo. One such place is Spa LaQua located in the entertainment complex known as
Tokyo Dome City
.
Spa LaQua uses natural spring water raised from a depth of 1700 metres. Water from such depths are said to offer healing effects as well as relaxation. The price for a visit may seem high - ¥2850 for adults and ¥2052 for children aged between 6 and 17 years (children must be accompanied by an adult), but after spending time here you feel that it was worth it!
After washing your body, you're then free to use the hot spring bathss.
The baths are really beautiful. There are indoor baths, sauna and, of course, the outdoor baths which I enjoy the most. By the bath a is a mall garden with arranged stones and the sound of the running water is soothing.
While numerous onsen allow guests with tattoos, many more don't and Spa LaQua is one of them. Spa LaQua is open from 11 am till 9 am, the next day, though staying overnight does require some additional charges. Please check the official website for more details.
Getting there
Tokyo Dome City is a 1-minute walk from Suidobashi Station on the JR Chuo Line. Spa LaQua is on the 6th floor.
By
Elena Lisina