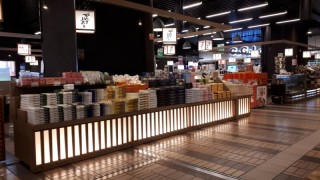 Showcasing Niigata right by Echigo Yuzawa Station
---
My first memory of
Echigo Yuzawa Station
was one of excitement. We had just gotten off the shinkansen and made our way through the ticket gates out into the station's indoor market area and I became giddy at the warm lighting, incredible array of stalls and the ambience of this most pleasant of countryside stations.
Getting here is easy courtesy of a 90-minute Joetsu Shinkansen ride from Tokyo. And when you do arrive, there is an immediate feeling of warmth and congeniality. Perhaps it is the local products that fill the station's stalls? Or perhaps it's the soothing lighting and the dark wooden beams and frames? More likely a combination of it all.
sansai
mountain vegetables,
koshihikari
rice,
hegi-soba
and
sake
rice wine. Sake aficionados will be particularly taken by
Ponshukan
, the station's sake tasting hall located at the far end of the shopping precinct.
fantastic dipping ramen bar
with some very nice tasting noodles.
Further along you'll find both a rice bowl bar and a sushi restaurant where only Niigata's famous koshikhikari rice is used. A hegi-soba restaurant also features followed by a couple of cafes and a great fried pork-cutlet on rice
katsu-don
restaurant.  
Getting there
CoCoLo Yuzawa is located right outside of the ticket gates of JR Echigo Yuzawa Station.
By
Sleiman Azizi