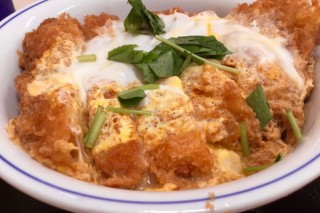 JAPAN TRAVEL
Tonkatsu Bourdain Might Have Loved
---
If you are looking for a Bourdain-type off the beaten track, hole in the wall, privately owned restaurant run by an elderly couple who have been making the same meals for 50 years, Katsuya is
not
it. Katsuya is the exact opposite: a chain restaurant with over 300 branches around Japan.
What it lacks for in distinctness, it makes up for with consistent high quality every time.
Tonkatsu
is one of the most popular meals in Japan. The star of the show is a pork cutlet coated with flour and egg and
panko
(breadcrumbs) and deep fried to a crisp. Often served with a side of freshly shredded cabbage, Worcestershire-like sauce, or in the case of
katsudon
, the deep-fried pork cutlets are topped over rice with a sweet-salty egg and dashi sauce and trefoil leaves for color.
Unlike my homemade tonkatsu, Katsuya uses
nama panko
, real bread crumbs made from freshly crumbled bread. The stuff sold in the supermarket which I use for convenience is really made from plain flour and artificial flavors. Real bread crumbs are difficult to make but taste infinitely better and absorb less oil, which means the tonkatsu remains crispy longer. If sauces are drizzled, they are better absorbed.
No matter what branch you go to, Katsuya serves pork cutlets that are consistenly crisp outside and moist, tender, tasty inside every single time. It is comfort food that is messy to prepare in my own kitchen and which I'm happy to eat out for.  
Getting there
Katsuya has hundreds of branches all over Japan, most of them conveniently located near train stations and along main roads. This branch that opened just last June 28, 2019 is near Komagawa Station along the JR Hachiko Line.
By
Sherilyn Siy